On Wednesday, December 16, 2009, the twelve premier student organizations of the over 150 student circles at APU held the "1st Premier Organization General Meeting" at the APU Millennium Hall.



APU premier organisations* are officially registered APU student clubs or circles that meet the following four criteria: relative to other student organisations, premier organisations must have "sustainability", "proven results", a "management structure", and "be international". The twelve recognized premier organisations hold regular meetings, but this was the very first Premier Organization General Meeting to be held.

All student clubs and circles were able to participate in this general meeting which, through sharing and discussing issues, aimed to contribute to the overall development of circle extracurricular activities. In addition to an introduction of current premier organization activities, the platform was built for future premier organization meetings including the establishment of meeting articles and regulations, and the approval of new executive members. Many students keen to energize future extracurricular activities were seen listening in keenly to the discussion.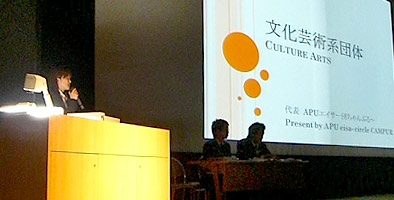 Chairman of the Premier Organization General Meeting MIZOKAWA Shiro (APS4, Japan), spoke confidently, "All of the premier organizations put in a lot of effort to make this General Meeting possible. This event was such a success and I look forward with great anticipation to the further development of APU extracurricular activities".

The Student Organization Support Committee (SOSC), a student circle established to provide support to circle activities from a student's perspective, also got involved in the planning and management of this event. SOSC Secretariat, SAKAMOTO Hikaru (APS3, Japan) commented on the event, "I hope such inter-circle cooperation leads to the further development and strengthening of extracurricular activities".

A number of reforms have been carried out since 2007 to accommodate the rising number of officially registered clubs and circles which by 2007, numbered three times the original number when the university first opened. In order to further develop each club and circle's potential, a tailored support system was introduced to meet the needs of individual groups and all student organisations were classified into three groups: Premier Organisations, Registered Organisations, and Student Clubs. There are currently approximately 150 registered organisations pursuing activities in a range of fields such as sports, culture and arts, academic research, friendship, and volunteering.

*APU Premier Organisations:
APU Baseball Club, APU Men's Lacrosse Team, APU Women's Athletics Team, APU Women's Volleyball Club, APU Tea Ceremony Club, Wadaiko "Raku", APU Eisa Dan 'Champuru', APU Wind Orchestra Club, APU Samulunori Team (Shinmyoung), Yosakoi Club, Education Network, PRENGO