On Friday, December 18, 2009, the Japanese Week Grand Performance was held at the APU Millennium Hall. Over 700 people braved the winter snow to come along.
The Japanese Week 2009 Grand Performance featured a pair of international and domestic students on their travels around Japan to discover the wonderful Japanese culture.

The pair's first stop was Hokkaido and the crowd came alive with a powerful performance from the student circle "Yosshakoi". Then, in search of a warmer climate, the pair arrived in Okinawa where students dressed up as locals entertained the pair with the light acoustic sounds of the "sanshin" – the three stringed traditional Okinawan variant of the Japanese Shamisen.

Their third port of call was Tokyo where the pair put on costumes of famous music groups and anime characters, gave a song and dance performance and introduced the crowd to "otaku" – the Japanese sub-culture associated with anime.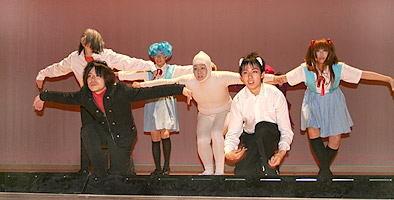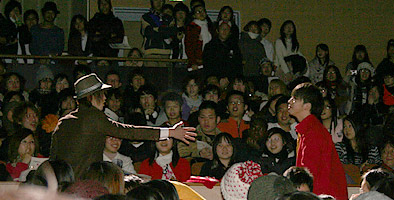 Moving on to Osaka, the show had the crowd in fits of laughter with a comedy performance scripted and directed by the students, while Kyoto presented the crowd with a fashion show of Japanese traditional Hakama and Yukata costumes, and a Japanese dance show. The crowd greeted the students dressed up in traditional "Maiko" dancer costumes with cheers and applause as they came up onto the stage and impressed the crowd further still.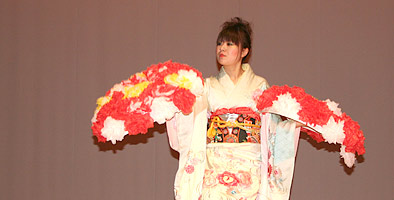 At Aomori Prefecture – the final leg of the tour – the traditional performing arts circle Arauma "Chiyo" gave an impressive dance performance accompanied by a live-paint show. To the "Rasse Ra!" chant of the Arauma group, female students used black and red paint to render a man's face on the white canvas.




Event representative TAKAHASHI Tetsuo (APS4, Japan) commented on the show, "Eighty of us spent over 6 weeks planning and putting together this show to introduce the international students to Japanese culture and re-kindle the domestic students love for Japanese culture – a culture they are familiar with. The show came off without a hitch thanks to the enormous support we received."

Ninety seven countries and regions are represented at APU and every semester Multicultural Weeks are held to showcase many of these country/region's language and culture through a range of events planned by the student body.

*Multicultural Week is sponsored by the Nakajima Foundation