On New Year's Eve and New Year's Day, over 150 AP House residents enjoyed Japanese-style New Year's celebrations at the New Year's Countdown Party.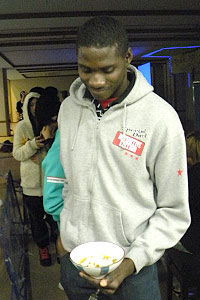 The party was organized by AP House Resident Assistants – a group of students who provide support to residents in their dormitory life – as a way to introduce the international students to the Japanese way of celebrating New Year's. The proceedings got underway at 21:00 with song performances by RA's, student song and dance performances, live violin and cello performances, a raffle, a yes-no quiz, and more.

As the clock moved ever closer to the final hour of the year, the students started dishing out "New Year's udon" in imitation of "New Year's buckwheat noodles" – eaten at New Year's for good luck. Amongst the students were many 2009 new entrant international students who all enjoyed eating the udon noodles and before long, a long queue had formed.

As the clock struck midnight, the New Year was rung in to the sound of crackers.
FATEMEE Muhammad Shahinur R. (APM1, Bangladesh), one of the RAs involved in the planning of the party, commented as he looked back on the event, "Planning this event took over a month and proved to be a challenge. But seeing everyone's happy faces made the whole thing worthwhile. I heard from my Indonesian friend that they don't have any such countdown event. In my home country of Bangladesh, people of all religions come together for a feast. But we do this all the time anyway so it's nothing special. I am really happy to have experienced Japanese culture and customs."

On the day, students from China, Korea, Bangladesh, India, Vietnam, Ghana, Botswana, Malaysia, Indonesia, Canada, and more enjoyed the event and greeted the New Year with new hopes and aspirations for 2010.