From Tuesday, December 15 until Friday, 18, 2009, the student circle "Habitat APU" opened a "Tea House" at the APU Pacific Cafeteria. Habitat APU – a student circle involved in volunteer housing construction projects in developing countries – also held an exhibition, mini live concert in addition to merchandise sales and tea in the APU Pacific Cafeteria with the aim of introducing their efforts and the housing problems of 3rd world countries to the student body.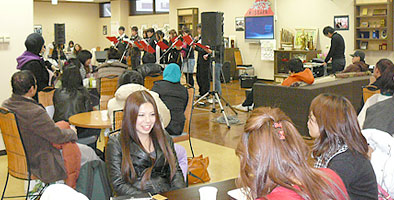 The Pacific Café was chosen to host the "Tea House" as a "place where you'd love to come home to" and featured a menu of nasi-goring rice cakes, Indonesian coffee, pound cakes, and more. Also available were original Habitat merchandise such as erasers, coasters and braided wrist-bands. Habitat also presented a photo exhibition introducing their circle activities and featured pictures of their circle members working at the front line of volunteering. APU circle students and student groups gave live performances which added to the relaxed atmosphere.

The event was well received by the many APU students and members of the local community who came along and showed a great interest in the exhibition photos and musical performances.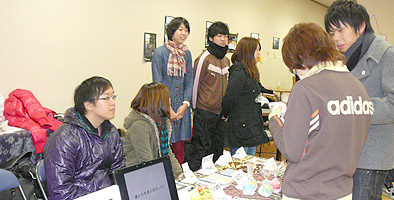 APU Habitat was set up in 2006 as a branch of the Habitat for Humanity Japan (HFHJ) – a member of Habitat for Humanity International (HFHI). HFHI is a non-government organisation involved in the construction and renovation of dwellings for people of many different backgrounds all around the world. Currently with fifty three members, the circle has been involved in volunteer construction activities in the Philippines and Thailand, and had also given reporting sessions, photo exhibitions, and more, both on and off campus.
The Habitat APU Homepage: http://habitatapu.web.fc2.com/

*Habitat For Humanity International
Habitat For Humanity International was set up in 1976 under the philosophy of creating "A world where everyone has a decent place to live" with the aim of ridding the world of slums and homeless people. To date, they have constructed 200,000 houses and supported over 1,000,000 people.
http://www.habitatjp.org/index.php