On Sunday, January 24, 2010, the APU Gala & Graduation Ball was held at the Hotel Sun Valley Annex, Beppu City. Featuring performances by APU student circles, this event was planned by ENAM Eftekhar (APM4, Bangladesh) and students of the APM Associate Professor Damon DRUMMOND Seminar and attended by upcoming March graduates, former APU President Monte CASSIM, Vice-President Malcolm COOPER and many more. This event has been held in previous years for members of the DRUMMOND Seminar but this year it invited all upcoming APU graduates.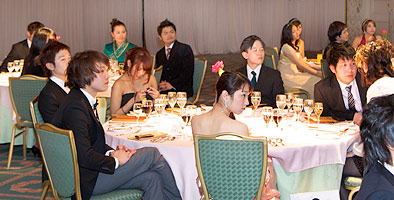 Dr. DRUMMOND got the proceedings underway with a toast to welcome the guests of honor, Professor CASSIM and Vice-President COOEPR after which the APU Cheer Leading Team "LILIES" delivered a powerful performance. Following the first course of the dinner, APU student Ho Nguyen BAO (APM2, Vietnam) mesmerized the audience with his impressive piano playing skills.

Matthias PFEIFFER (APM4, Germany) gave a few words as representative of the graduating students, "Our experiences here at APU and Beppu will remain with us forever. I urge you to stay true to yourselves and positive about the future as we begin a new and exciting chapter in our lives."

After a number of performances, a slideshow tribute to former-President CASSIM was shown which prompted Professor CASSIM to take the microphone and address the audience, "I am very grateful for all the work you have put into this event. This is how traditions are created". Professor CASSIM was then presented with a clock and bouquet of flowers on behalf of APU students.

Following this, APU Tropics-Salsa delivered an impressive Latin-dance performance that soon had the audience clapping and tapping their feet to the rhythm. Tropics-Salsa then led the hall in a waltz which had everybody out of their seat. The dancing continued well after the event was scheduled to end.

Looking back on the event, Graduation Ball planner Mr. ENAM commented, "The event was a great success and we are eternally grateful to Dr. DRUMMOND for his efforts this year and in previous years to make this event a reality. I hope that this event will go on to form part of APU tradition."