Over eighty students from APU and ten other Japanese and Korean universities took part in the "East Asia University Student's Peace and Human Rights Camp" which ran from Thursday, February 18 until Monday 22, 2010. During the camp, the students visited historical Japanese and Korean ruins, took part in lectures and fieldwork and exchanged their thoughts and opinions on peace and human rights. This camp was planned and managed by the APU East Asia University Student's Peace and Human Rights Camp Student Committee.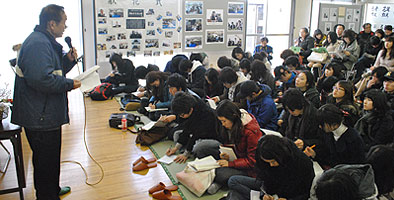 This camp, now in its 16th year, was attended by students from APU, Ritsumeikan University and Tokyo University and eight Korean universities including Seoul National University, Chonnam National University, Jeju National University, the University of East Asia and Pusan National University. Under the theme of "Japanese Imperialism and Peace – Collation of Korean-Japanese History" the students learnt about Korean forced labour, differences in historical awareness between Japan and Korea, and took the opportunity to exchange opinions on a vision for history the future. During the camp students visited the Chikuho Coal Mine where Korean people were used as forced labour during WW2. The group also visited Nagasaki – the second city to suffer the horrendous damage and loss of life caused by the atomic bomb.

East Asia University Student's Peace and Human Rights Camp Committee Representative, HWANG Jae Park (APM2, Korea), spoke of his impressions on the camp and his aspirations for the future, "Students from each university carried out prior research before taking part in this camp but I felt that there were gaps in the respective Japanese and Korean awareness of history. I felt that we can take the first step towards mutual understanding by aligning our historical awareness and engaging in questions from the other person's standpoint, then the ties between Korea and Japan would strengthen and develop even more. Furthermore, I hope that a greater number of Japanese students will take an interest in these issues and I look forward to even more students joining the camp in the future".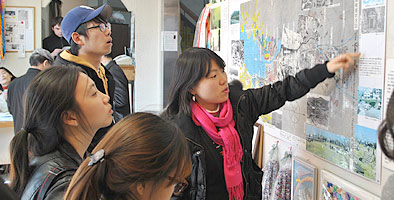 Under the theme of "Learning about Pease and Human Rights first-hand", the East Asia University Student's Peace and Human Rights Camp aims to promote Japanese and Korean students' awareness of peace and human rights in East-Asia through a program involving visits to historical relics, lectures, fieldwork and the exchange of opinions. This event is planned and managed by students of the various Japanese and Korean host universities and in previous years has been held in sites such as Seoul, Okinawa, Jeju Island, Osaka and Kyoto.