On Friday, March 12, 2010, the Spring 2010 Graduation Ceremony was held at the B-con Plaza Convention Hall in Beppu City at which 763 students from 36 countries and regions marked the start of their new journey. Approximately 1200 parents, friends and juniors gathered to celebrate the occasion.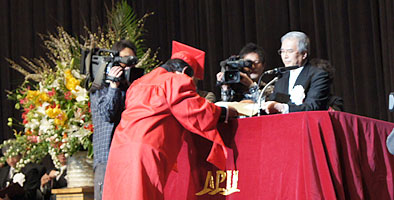 President KORENAGA Shun addressed the graduates and offered his words of congratulation, "This year marks 10 years since the foundation of APU, and I feel the greatest joy in celebrating your departure into society or progression on to further studies at this most important juncture. You all have a long life ahead of you but remember that 'Time flies'. This time will pass quicker than you imagine. I urge you to take the abilities that you have cultivated at APU and use them to their fullest extent. I also hope that you will come back and visit us occasionally." The President then presented the undergraduate and graduate representatives with their degree certificates.

This year's Ando Momofuku Honor Scholarship* recipient, Ms. KURIHARA Kanoko (APS, Japan) gave a message as representative of the undergraduate school, "During my time I took part in an internship with the United Nations World Food Program (WFP) and it was then that I realized that I want to spend my life working in the field of humanitarian aid. After my graduation I will make my way into society with the WFP in the Middle East. In the future, I hope to work with the United Nations and get involved in emergency aid and support efforts. I will make the use of the dynamic and thorough leadership skills I gained on the diverse APU campus and aim to become an indispensible member on the front lines. Fellow graduates, I urge you to believe in yourself, your skills and the initiative you gained at APU to take on new challenges and make your way into the world."




Mr. TAN Gin Kien (GSAM, Malaysia) gave a few words as representative of the graduate school graduates, "Enrolling into APU was one of the best decisions I have ever made. While I enjoyed attending classes and conducting research, I also found engaging in club activities, as well as life in AP House, especially rewarding and enjoyable. APU's ethnically and culturally diverse environment has truly challenged my initial perceptions of the world and enriched my knowledge of global society. I am proud to say that I have made friends from almost every country in the Asia Pacific region."

The ceremony concluded with the graduates tossing their caps high into the air of the auditorium, and as they face the beginning of a new chapter in their lives, the graduates leave with fond memories and experiences of APU to pursue further study or career opportunities.

*The ANDO Momofuku Honor Prize
Established through the courtesy of the late Honorary Doctor ANDO Momofuku, the founder of Nissin Food Products Co., Ltd. The scholarship aims to support undergraduate students who are scheduled to graduate and who have a strong desire to contribute to the Asia Pacific Region in their future careers. Each year one to two students are awarded this scholarship.