On Tuesday, March 9, 2010, eleven members of the Asia 6-Nation Women's Meeting from China, Vietnam and Mongolia visited APU and met with Vice-President WAKABAYASHI Kimio, Dean of Careers TAKANO Kanji and APM Professor UNETANI Takako. The "Asia 6-Nation Women's Meeting" was held in Beppu City the day before on Monday, March 8.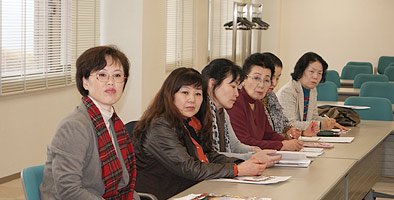 Vice-President WAKABAYASHI introduced the achievements of the APU female student and faculty, "When compared to the whole student body, our female international students are our most active achievers. We have a large number of female faculty members who continue to work hard in their overseas fieldwork, research and much more on equal terms with their male counterparts."

A number of questions were raised by the group regarding graduate achievements and university methods to recruit international students and employ foreign faculty. These questions were addressed by Vice-President WAKABAYASHI who explained the On-Campus Recruiting* campaigns which attract approximately 400 companies annually and the university entrance system, "based on the student's letter of recommendation and other provided documents, members of our faculty will then travel to the student's country/region and interviews them". A number of female students also participated in the meeting and introduced aspects of their lectures, extracurricular activities and APU student life.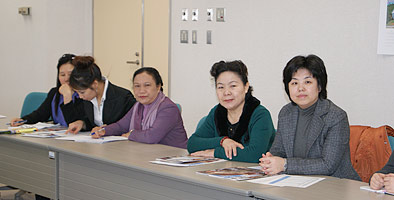 APU President KORENAGA delivered a keynote speech and Professor UNETANI attended the "The Role and Empowerment of Women in Economic, Environmental and Cultural Development" symposium of the Asia 6-Nation Women's Meeting held prior to this campus visit. Furthermore, female APU student LE Thu Huong (APM4, Vietnam) acted as interpreter for the Vietnamese members of the group.

*On-Campus Recruiting
As part of the APU employment support system, On-Campus Recruiting takes students through the employment process from information sessions through to employment exams and interviews. This is an independent APU employment support system which welcomes business representatives to the university campus. Central to this employment support system are the many hundreds of business and organisation HR representatives who come to APU every year.