On Sunday, May 2, 2010, approximately 20 members of the APU volunteer circle "Habitat APU" held a donation appeal outside the JR Beppu Station for people around the world who need a place to live.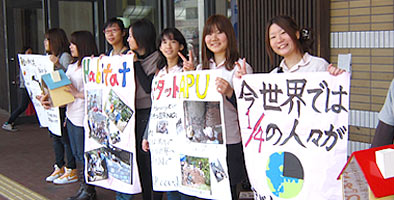 The contributions raised through these regular donation appeals are sent to Habitat for Humanity Japan (HFHJ), a member of Habitat for Humanity International (HFHI*). HFHI is a non-government organisation involved in the improvement and construction of housing for people around the world of a range of backgrounds. All funds raised have been put toward covering construction and materials costs.

Student in charge of Habitat APU publicity, YAMAGUCHI Takashi (APM2, Japan) commented on the project, "We thank everyone who supported our appeal. You have made a great contribution to international cooperation and the funds we have raised will soon be put to use around the world to cover the costs of building materials and much more. We will continue to ensure more people know about the construction efforts of Habitat".

YAO Shizuka, a 2nd year student at the Ritsumeikan University College of Policy Science and member of the Ritsumeikan International NGO RitsBLOH, is an active member of the HFHJ Student Branch and also took part in the Beppu donation appeal.

Habitat APU is the only HFHJ student branch in the Kyushu area and has so far been involved in construction volunteer activities in The Philippines, Thailand and Indonesia. They are also working hard to introduce their efforts to the public and have held reporting sessions, photo exhibitions and a number of awareness campaigns on-campus.

Further donation campaigns are scheduled for the following dates. Please be sure to lend your support!

Sunday, June 13@ Tokiwa Department Store, Oita City
Sunday July 11, Sunday October 10, Sunday November 28, Sunday December 19, Sunday January 16.
(Campaign venues are announced on the Habitat APU homepage)Please click here for the Habitat APU homepage.

*Habitat For Humanity International was set up in 1976 under the philosophy of creating "A world where everyone has a decent place to live" with the aim of ridding the world of slums and homeless people. To date, they have constructed 350,000 houses and supported over 1.75 million people around the world.
Please click here for the Habitat For Humanity International.