On Wednesday, May 12, 2010, the "19th Doctoral Research in Progress Seminar" was held at the APU Convention Hall. During the seminar, five APU doctoral students presented their research so far in the field of Asia Pacific Studies.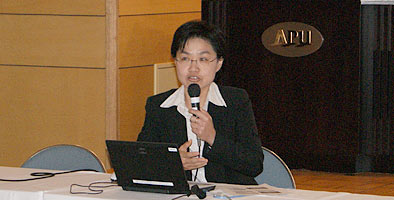 During the first half, Ron Adwell PORTER (USA) presented his research under the theme of "Economic Aspects of the Governance of Mongolia 1368 -1992", Shyamu Thapa Magar (Nepal) about "Identity Construction: Transition from Assimilation to Identification: A Case Study Among Magars of Nepal", and Rawadee JARUNGRATTANAPONG (Thailand) discussed "Adaptation gaps to flood in Chiang Mai Province, Thailand".

Based on her research findings, Ms. JARUNGRATTANAPONG described heavy rain combined with the effects of deforestation as the main causes of flooding in the area she investigated. She continued, outlining the difficulties surrounding flood early warning systems and possible countermeasures due to lack of local acceptance and financial constraints.

During the second half of the presentations, SAHA Shantanu Kumar (Bangladesh) presented under the theme of "Farmers' Adaptation in Flooded Areas: A Case Study of Floating Cultivation in Bangladesh" and NILA Firdausi Nuzula (Indonesia) presented on the topic of "Analyzing CSR Report of Japanese Food Companies and its Stock Price".

At the end of the presentations, the presenters received feedback and advice toward further improving their research from the audience that included professors, undergraduate and graduate students. Dean of the Graduate School of Asia Pacific Studies, Professor Jeremy EADES, offered the students further advice toward conducting their future research activities.

Seminar Coordinator and Associate Dean of the College of Asia Pacific Studies (Graduate School), Professor MANI, described the aim of the seminars as, "an opportunity to encourage doctoral students to share their research to a wide audience and get constructive feedback toward further improvements". Begun in 2004, Doctoral Research in Progress Seminar is held once every quarter.
Reporter, Student Press Assistant (SPA):
JAYAGODA Dimithri Devinda (GSAM 1, Sri Lanka)