Over the last ten years, APU has concluded a number of friendship agreements with municipalities throughout Oita Prefecture and Japan which have proven to be an enormous asset to the University.
To reaffirm our commitment to these agreements, the "APU & Local Partner Municipality Awareness Week" will be held from Monday, May 24 until Friday, May 28 in collaboration with our partner municipalities which we hope will lead to further development, cooperation and collaboration.

In addition to a daily cafeteria menu featuring dishes closely associated with each municipality, a number of PR displays will be set up by partner municipalities featuring images of exchange events.
Members of the general public are more than welcome to come along. We hope to see you there!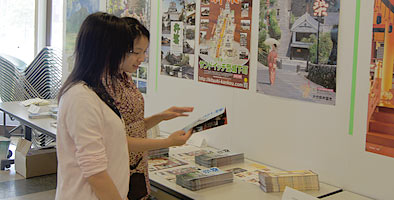 Time/date:
(10:30 – 16:30) Monday, May 24 – Friday, May 28
Venue:
APU Student Union Building (Building E), 1F, Cafeteria, display-booth area

Event Program
1. Semi-permanent displays: free entry
*Display booths by partner municipalities:
A number of displays including PR posters, pamphlets and materials from partner municipalities
*Audio-visual corner:
Tourism PR videos from partner municipalities
*Display panels:
Images displaying exchange events between university representatives and partner municipalities

2. Cafeteria menu featuring dishes associated with each municipality. *Charges apply