Through the collaboration of the "APU PRESS" team of student staff and the local Oita Prefecture newspaper, Oita Godo Shimbun, the APU 10th Anniversary Special Feature will be printed in the Saturday, May 22, 2010 edition of the Oita Godo Shimbun. Entitled "APU PRESS", this four-page full-colour feature will be printed in both English and Japanese and circulated to approximately 230,000 households throughout Oita Prefecture.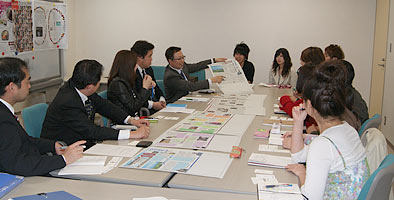 Planning for the APU 10th Anniversary Special Feature began in August 2009 with the Oita Godo Shimbun and APU student volunteers. This forty-six strong team including ten international and eight domestic students, has been working on the planning, writing, publicity efforts, and much more.

One of the students in charge of the Japanese articles, KAWAI Nanako (APS3, Japan), commented on the process leading up to the newspaper's publishing, "we began this initiative to commemorate the university's 10th anniversary and express our gratitude to the members of the Oita Prefecture community in the form of a newspaper feature article".

Meanwhile, Yub Raj Ghimire (APM1, Nepal) who worked on the English articles, said, "we tried to write articles that would make people in the Oita Prefecture community feel a greater sense of attachment to APU and more aware of the kind of university we are and the path we have taken over the last 10 years".

Focusing on the topic of cross-cultural exchange, the special issue features a number of articles introducing APU including "Life at AP House" and an "Interview with President KORENAGA". With colourful student images, this Special Feature gives readers an insight into the unique international atmosphere at APU.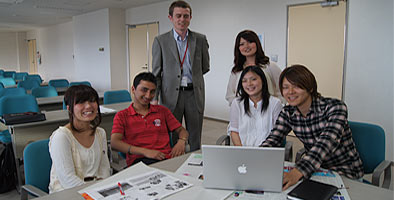 We have received messages from a number of the student staff involved in this project:
"I'm certain that without the support of the people of Oita, APU would not be what it is today. I hope that people will read our articles and feel a greater sense of attachment to APU". (Yub Raj Ghimire)

"I hope that even people unfamiliar with APU will find it easy to understand. The articles are printed in both English and Japanese, which may be a bit daunting to people unfamiliar with English articles, but we hope that everyone with an interest in APU will read them". (KAWAI Nanako)

These articles have been written from our students' point of view and offer the reader an insight into APU from a unique angle. Everyone is getting things ready for the second issue planned for later in July so please look forward to our joint Oita Godo Shimbun - APU 10th Anniversary Special Features!
Reporter, Student Press Assistant (SPA):
ISSHIKI Kosuke(APS4,Japan)