On Wednesday, June 30, 2010, the "2010 Spring Award and Scholarship Conferral Ceremony" was held at the APU Convention Hall. The APU scholarship system aims to encourage and provide support for students who have achieved outstanding results in their academic and extracurricular activities.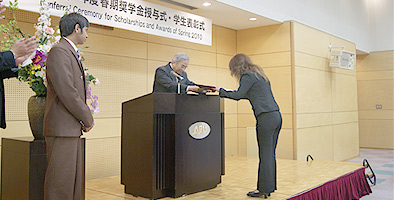 This spring semester saw four students receive the ANDO Momofuku Scholarship, ten recipients of the Academic Merit Scholarship and twenty-two Academic Merit Awards presented to APS and APM students.

Starting with an opening address by President KORENAGA, the ceremony saw the scholarship recipients introduced one by one and welcomed onto the stage. A student representative of each scholarship division was then presented with their certificate by President KORENAGA, APS Dean Prof. Jeremy EADES, APM Dean Prof. YOKOYAMA Kenji, and the Dean of Student Affairs, Prof. KIM Chan Hoe.

ANDO Momofuku Scholarship recipient NUMAKURA Arisa (APM3,Japan) expressed her thanks and spoke of receiving the scholarship, "I have known the problem of poverty in Asia since I was in high school. Since arriving at APU I have participated in a variety of events and campaigns related to Asian development in order to help create a better world. In the future I will continue to work towards my dream of making a contribution to the development of Asia".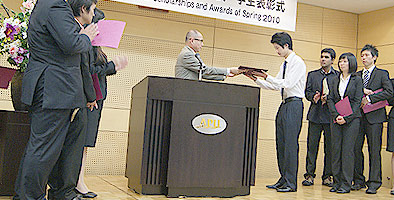 Recipient of the ANDO Momofuku Scholarship and the Academic Merit Scholarship, ISLAM MD.Shariful (APS3, Bangladesh) said, "My dream is to help disabled children and the elderly to lead comfortable lives as a universal designer. This scholarship will help me to achieve this dream in the future".

The "Incentive Scholarship & Certificate for Self-motivated Students" and "APU-Club Domestic Students' Parents Association Incentive Scholarship" were then presented. Representative of APU Aikido Club, YANO Mihoko (APS4, Japan) spoke of her aspirations for the future and the Aikido club.

Details on the ANDO Momofuku Scholarship:
The ANDO Momofuku Scholarship was founded through the generosity of the late Honorary Doctor ANDO Momofuku, the founder of the Nissin Food Products Co., Ltd. to encourage and support students who have outstanding academic records, are of good character, and have played a leading role in various activities.

2010 Spring Scholarship

The ANDO Momofuku Scholarship

ISLAM MD. Shariful APS(College of Asia Pacific Studies)3, Bangladesh
NUMAKURA Arisa APM(College of Asia Pacific Management)3, Japan
TANAKA Manato APS(College of Asia Pacific Studies)2, Japan 
OKAMOTO Hiroshi APS(College of Asia Pacific Studies)2, Japan

The Academic Merit Scholarship
RAI Sharad Chandra APS(College of Asia Pacific Studies)4, Nepal
KITTITHIRAPORNCHAI A APM(College of Asia Pacific Management)4, Thailand
Iqra Anugrah APS(College of Asia Pacific Studies)3, Indonesia
ZHOU Ying APM(College of Asia Pacific Management)3, Indonesia
ISLAM MD. Shariful APS(College of Asia Pacific Studies)3, Bangladesh
JUNG Hyo Sup APM(College of Asia Pacific Management)3, Korea
ZHANG Lei APS(College of Asia Pacific Studies)2, China
CHEN Cheng APM(College of Asia Pacific Management)2, China
TANAKA Suguru APS(College of Asia Pacific Studies)2, Japan
JEONG Minji APM(College of International Management)2, Korea
The Academic Merit Certificate
KUROSAWA Hiroko APS(College of Asia Pacific Studies)4, Japan
MATSUOKA Nanae APS(College of Asia Pacific Studies)4, Japan
HOSSAIN Mohammad I. APM(College of Asia Pacific Management)4, Bangladesh
MAEYAMA Haruka APM(College of Asia Pacific Management)4, Japan
JOSHI(Ratala) D. P. APS(College of Asia Pacific Studies)3, Nepal
VO Thanh Dat APS(College of Asia Pacific Studies)3, Vietnam
LE Tuan Anh APM(College of Asia Pacific Management)3, Vietnam
HU Jiayao APM(College of Asia Pacific Management)3, China
KWON Soonji APS(College of Asia Pacific Studies)3, Korea
SONODA Keiko APS(College of Asia Pacific Studies)3, Japan
PATHANASETHPONG Prae APM(College of Asia Pacific Management)3, Thailand
OSOTTANAKORN P. APM(College of Asia Pacific Management)3, Thailand
ISKANDAR Zaza H. APS(College of Asia Pacific Studies)2, Indonesia
TRAN Thi Dieu Duc APS(College of Asia Pacific Studies)2, Vietnam
LI Fan APS(College of Asia Pacific Studies)2, China
WANG Chenxi APM(College of Asia Pacific Management)2, China
XU Xiaoye APM(College of Asia Pacific Management)2, China
NISHIKAWA Chihiro APS(College of Asia Pacific Studies)2, Japan
UEMURA Shizuka APS(College of Asia Pacific Studies)2, Japan
HAYASAKA Ryuichi APM(College of International Management)2, Japan
CHO Lin APM(College of International Management)2, Korea
NAKANO Kaho APM(College of International Management)2, Japan

The Incentive Scholarship & Certificate for Self-motivated Students
PRENGO
APU Aikido Club
APU Wind Orchestra
KORVAH Tarnue Kootee APS(College of Asia Pacific Studies)4, Liberia
YANO Mihoko APS(College of Asia Pacific Studies)4, Japan
The APU-Club Domestic Students' Parents Association Self-motivated Students Scholarship
Men's Lacrosse Team
Virgi Agita Sari APM(College of Asia Pacific Management)3, Indonesia
MIYAMOTO Takeshi APM(College of Asia Pacific Management)3, Japan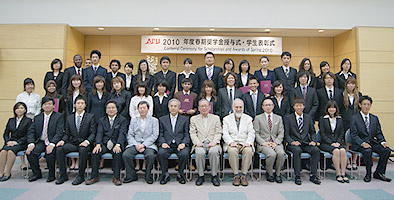 Reporter, Student Press Assistant (SPA): MAO Zhewei (APM1, China)