On Friday, July 2, 2010, the Indonesian Week Grand Show was held at APU Millennium Hall and attracted a considerable number of domestic and international students, staff, professors and local Japanese citizens who gathered to witness the brilliant visual feast.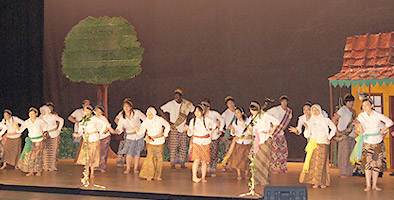 Although scheduled to begin at 6:30, queues of people were seen forming in front of the Millennium Hall from 4:00. The show centered the story of a good-looking, popular but narcissistic boy and the one girl whose heart he originally just could not win. After eventually winning her heart and their future together began to open up before them, she falls into an endless sleep from which she would not wake. The performance told the story of how the boy eventually woke her and how they lived happily ever after.

The theme for this year's show was "Warna-warni Indonesian" (colourful Indonesia) and featured a colourful array of performances, traditional singing and dancing including a "Jejer" dance - a dance originating in East Java performed to express the people's gratitude for the harvest to Dewi Sri, the Goddess of harvest. A Fashion Show featuring some of the traditional costumes of Indonesia's 300 different ethnic groups provided the perfect end to Indonesian Week.




The show received a great response from the audience. Nichole Amanda Rubbia Tambuna (APM1, Indonesia) commented the efforts of her fellow Indonesians, "As I watched the performance and saw my friends' happy faces on-stage, I realized just how much time they had sacrificed and the countless hours of practice they had put into this performance over the past few months. The performance was a real testament to their efforts".

Representative of Indonesian Week, PINEM Deo Renala (APM2, Indonesia) spoke highly of the show and expressed gratitude to everyone involved, "Thanks to the audience for coming along today; thank you for taking an interest in Indonesian culture and for your great support. And to all the participants in the show I say: we couldn't have done it without you. Thank you all for making this magnificent performance possible!"

Multicultural Weeks are one of the most popular and awaited events on the APU student calendar. The Grand Shows are always popular and never fail to impress the audience with their magnificent performances.
Reporter, Student Press Assistant (SPA): MAO Zhewei (APM1)