講演・シンポジウム|来学者
Jul 16, 2010

On Friday, July 2, 2010, H.E. Dr. Jusuf ANWAR, Ambassador Extraordinary and Plenipotentiary at the Embassy of the Republic of Indonesia in Japan, visited APU and delivered a Special Lecture on Indonesia-Japan relations at APS Associate Professor IGUCHI Yufu's Indonesian language lecture.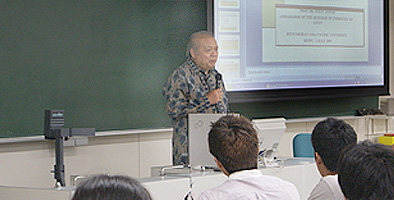 During his lecture the Ambassador emphasized the important role that education plays in national development and described the close relationship between Japan and Indonesia, "Japan continues to feel to effects of an aging society, meanwhile Indonesia has a wealth of human and natural resources. Our nations continue to enjoy a wonderful and mutually beneficial relationship".

During his time on campus, the Ambassador also observed an Indonesian language lecture by Junior Lecturer Diajeng Indah Angelia Basuningtyas. A number of students asked questions in Indonesian to which the Ambassador reciprocated and kindly offered his reply in Indonesian. The Ambassador also offered a few words of encouragement to the students scheduled to take part in an exchange program to Indonesia later this year.

Ambassador ANWAR also took the opportunity to view the Indonesian Week Grand Show and was accompanied by an entourage including Consul General of the Republic of Indonesia in Osaka Ibnu Hadi; Cultural Attaché at the Consulate-General Dr. Edison Munaf; Chief Representative at the Tokyo Representative Office of the Central Bank of Indonesia, Eddy Sulaeman Yusuf; and Regional Head at the Tokyo Branch of the PT. Bank Negara Indonesia, A. Firman Wibowo.

Although many of the Indonesian entourage were visiting APU for the first time, everyone seemed to greatly enjoy the show. The Chief Representative at the Tokyo Representative Office of the Central Bank of Indonesia, Mr. Eddy Sulaeman Yusuf commented on the Grand Show, "the show was just fantastic - it really took my breath away. I was impressed to see so many non-Indonesians both performing in the show and providing their support".

At the conclusion of the program, Ambassador ANWAR rose to the stage with the performers and people involved in the show and offered the audience his words of appreciation, "You are all just like 'student diplomats' linking Japan, Indonesia and all the nations of the world. I look forward to your achievements in the future".

APU is home to students from 98 different countries and regions, and Multicultural Weeks and held every year to put the spotlight on the cultures and languages represented on campus. Indonesia Week always proves very popular with its outstanding performances and always attracts a large audience from both on and off campus.