学生生活|講演・シンポジウム
Jul 16, 2010

On Saturday, July 3, 2010, the "Students APEC" Conference was held at B-con Plaza in Beppu City. Hosted by Oita Prefecture, this conference was held to build momentum towards the upcoming "APEC Economic Committee High Level Policy Round Table Meeting" in August. Eight international students from four local universities attended the conference including five students from APU.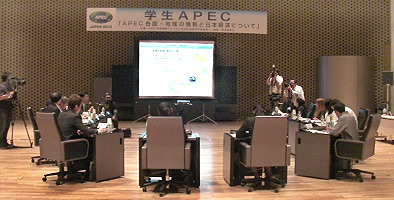 In attendance were the Director of the International Economic Affairs Division at the Ministry of Economy, Trade and Industry Trade Policy Bureau, Mr. NAKAO Yasuhisa; Deputy Head of the Information Strategies Office at the Bank of Tokyo-Mitsubishi UFJ Global Planning Division and also the Lead Staffer at the APEC Business Advisory Council's Finance and Economics Working Group, Mr. SAWAOKA Naoki; and, representing the local business community, the President of Fundokin Soy Co., Ltd, Mr. KOTEGAWA Kyoji. In attendance from APU were APM Professor WANG Mariner, and five students: NAKAMURA Fumi (APS4, Japan), RAUNGMETHANOPARAT Kriangkrai (APS4, Thailand), VO Thi Mai Huong (APM4, Vietnam), Hannah A. HUGHES (APM4, Australia) and Ayumi Kaneko Zepata (APS3, Japan).

Mr. NAKAO began with an explanation of the current state of APEC and the reasons behind the holding of the Student's APEC conference. Participating students then talked about environmental issues, the importance of solar power generation systems, economic cooperation, Official Development Assistance (ODA), issues surrounding economic partnership agreements (EPA), free trade agreements (FTA), and also the many issues facing the Asia-Pacific region.

Speaking on behalf of the local business community, Mr. KOTEGAWA offered his opinion on the student debate from a businessman's perspective, "I could really understand the students concerns for their home nations and could also see the result of the hard work they put in for this APEC event. The general public has great expectations for the Asia-Pacific region and I hope that the region will continue to make use of ODA and experience sustained growth".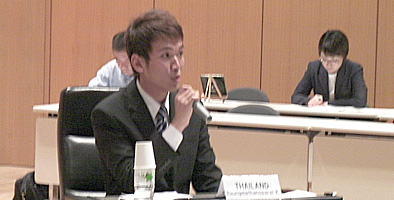 Mr. NAKAO offered the closing remarks, "For the Asia-Pacific region to enjoy continued development, the 21 member nations of APEC must work together and help each other. Furthermore, interpersonal relationships are absolutely necessary for member countries to cooperate and follow the APEC growth strategy and I'm sure that having international students in attendance today is very meaningful indeed".

Representing Mexico, Ms. Ayumi Kaneko Zapata gave her impressions of the conference, "Through exchanging our thoughts and ideas with members of the private and public sectors, we have gained a 'real-life' understanding of APEC. It was a great opportunity to hear about the link between APEC and humanitarian aid - an area I have a strong interest in - and to consider what nations should do to reduce their dependence on foreign aid".
Reporter, Student Press Assistant (SPA): NAGAYAMA Tomohito (APS1, Japan)