On Saturday, July 10, 2010, APU students from approximately 40 different countries and regions took part in a parade through downtown Beppu to express their gratitude to the local community. This project was the winning idea in the recent 10th Anniversary Event Idea Contest submitted by the Cemi-tu' pui student organisation under the title of "University community contribution - cemi-tu' pui 2010".



Approximately 150 students, faculty members and staff from 40 different countries and regions dressed in traditional costumes before proceeding from JR Beppu Station carrying placards with the words "thank you" written in their native language. The parade also included unique APU international performances in the station building including a traditional 'samulunori' musical performance by the APU circle Shinmyoung and a traditional dance by Vietnamese students. A large number of local citizens and tourists stopped to watch the parade.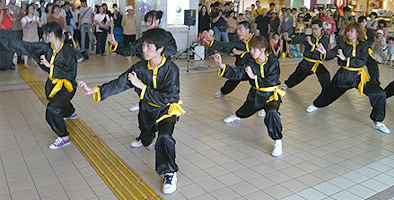 Cemi-tu' pui representative, IEIRI Kensei (APM4, Japan), commented on the parade, "We planned this parade event in the hope of expressing our appreciation to the local Beppu community in a unique APU style. Gathering students from as many different countries and regions as possible proved a challenge but we were very glad to have so many students and faculty staff taking part on the day. The whole event proved to be a great success and went off without a hitch. The most pleasing thing to see was the happy faces on the people walking by who stopped to watch our performances. I hope that we can hold further events with the local community in the future. And finally, I wish to thank all the students, staff and members of the community who took part".




Established in 2000, APU will celebrate its 10th anniversary through a range of university and student events from October 2009 until September 2010. Another group of students chosen in the "10th Anniversary Event Idea Contest" are currently working on the next installment under the project title "Let's build the Twin Towers together". This project will see the faces of APU students and staff used in a massive photo-collage image of the iconic APU Twin Towers. We hope you will take part too!

Please click here for the APU 10th Anniversary website