On Friday, July 16, 2010, the Thai Week Grand Show was held the APU Millennium Hall. Adding the final touch to the 2010 Multicultural Weeks, the Thai Week Grand Show delivered a powerful performance in front of packed house.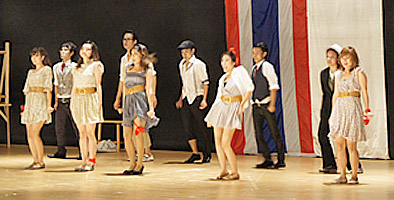 Set in Thailand during the Second World War and featuring a number of traditional Thai dance performances, the Grand Show told the famous but heartbreaking Thai "Sun Set" love story of a Japanese solider "GOBORI", and local Thai girl, "ANSUMALIN".

Although ending in tragedy, the quality of the performances and love story enthralled the audience who gave the performers a rousing applause before the curtain came down.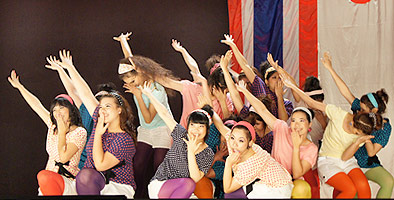 Thai Week student representative, LAUEBOONCHU Patarapon, commented as he looked back on the show, "We tried to do something different to previous grand shows by using a tragic love story that connects both Thailand and Japan. We put a lot of effort into using the entire hall as part of the show so that the audience would feel closer to our performances. We began our preparations back in February, but thanks to the tireless efforts of some one-hundred students, both from Thailand and other nations, we were able to give 200% on the night".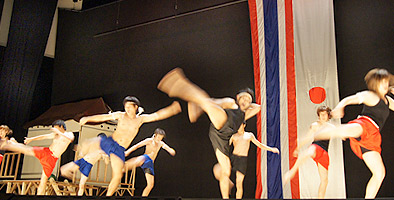 Playing the role of Japanese academic, "YOSHI", Thai student LOKNIYOM Chatchai (APM2, Thailand) said, "We rehearsed as much as we could and everyone came together and put in a great team effort so I have absolutely no regrets". SHIKAKURA Kanoko (APM1, Japan) performed in the show and gave her impressions on the Thai Week program, "This was the first time to participate in a multicultural week and it was such a wonderful experience, both the practice and the final performance. I hope to get involved in more multicultural weeks in the future".




An annual event on the APU calendar, Multicultural Weeks are always well received both on and off campus and are a tribute to the many hours of practice our students put into their elaborate and creative shows that would put professionals to shame. The next round of Multicultural Weeks is scheduled for autumn later this year. We hope that those of you who haven't yet experienced Multicultural Weeks will take advantage of this opportunity to experience the APU culture!
Reporter, Student Press Assistant (SPA):
ISSHIKI Kosuke(APS4,Japan)