From Saturday, July 3, 2010, the APU Photo Club has been displaying approximately fifty pieces at the "Big Wave - Art comes to Oita Forus" exhibition. Held in the Oita City Forus shopping centre, the exhibition will run until Tuesday, August 31.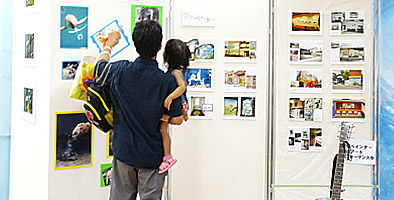 A range of work will be on display by local Oita-based artists from a range of genre including photography, compositions, paintings and screens. Fourteen members of the APU Photo Club are exhibiting their work at this event with approximately fifty images capturing people and landscapes as seen from the unique student viewpoint.

APU Photo Club representative, URABE Chihiro (APS2, Japan), spoke of her ambitions for the future, "For the APU Photo Club, this was our first attempt to participate in such an event featuring so many art genre. So many people have come along to enjoy our work and it is great to get their feedback and impressions via email. We plan to display new pieces from time to time so we hope that people will come along not just once, but many times. The 'Big Wave' exhibition runs for about another month and we will do our best to ensure that there is something interesting and fresh right up to the end".

Currently with approximately twenty international and domestic members, the APU Photo Club enjoys a range of photography styles and the different idiosyncrasies of film, digital, hand-made and disposable cameras. In addition to on-campus photo exhibitions, the club is also an active participant in off-campus events such as their annual December joint-exhibition with other local universities.

Please come along and enjoy the work of our APU students displaying their unique outlook on the world.

"Big Wave - Art comes to Oita Forus"


Time/date: July 3 (Sat) - August 31 (Tue), 2010
Venue: Oita Forus, 6F (Oita City)
Entry: Free
Featuring: YOSHIGA Kenta, MISHIRO Hiroto, PigStar Natsumi, Oita Art Photography, Marais, APU Photo Club
Reporter, Student Press Assistant (SPA): HOURAI Yuki (APS2, Japan)