From Saturday, July 30, through to Monday August 1, 2010, the APU Summer Camp was held again this year on the APU campus for highly motivated high school students from around Japan. Approximately 80 third-year high school students aiming to advance to university participated.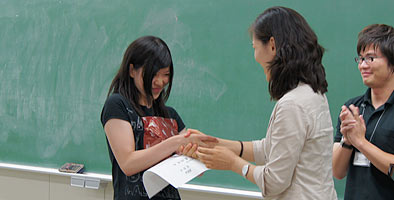 The APU Summer Camp is a 3day/2night program which aims to deepen students' understanding of the issues of international society and consider the future through study with APU students who have gathered from around the world. Now in its 11th year, the program annually receives many applicants from throughout the country.

During the three-day Summer Camp, participating high school students stayed at the AP House student dormitory, received lectures by university faculty and received support and advice on study methods from their supporting Teacher Assistants (TA). They also took part in study groups and discussions with their TA's before delivering a presentation on the final day which brought together the events of the whole program. Students who won group or individual awards at this presentation were awarded with a certificate and souvenir.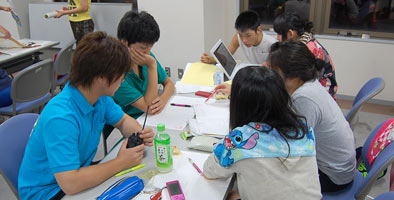 TA Leader, TANAKA Marika (APS3, Japan) gave a few words to mark the end of the camp, "Our goal as TAs was to provide a three-day camp through which the participants could learn about a range of concepts such as friendship, relationships and cooperation. We hope that you all come away from this camp satisfied that you got something meaningful out of it. We also hope that you will apply the experiences you gained through this three-day camp in your future careers".

At the conclusion of the camp, the participating TA's and high school students took group photos and the TAs offered a few words of encouragement as the students prepare to take the university admission exams. Everyone expressed their hope that they would meet again at APU in spring next year.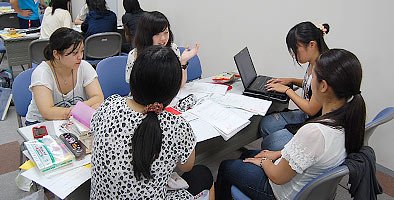 Looking back on the three-day camp, a number of students gave their impressions of their time at APU:
"I was initially puzzled with the differences in our values systems, but in a very short time we were able to develop strong friendships. It was a very meaningful three days and I am full of appreciation for the hard work and support the TAs gave us".
"The TAs taught us so much, from putting together presentations and materials, presentation know-how, through to the importance of group cooperation".
"Thanks to the support of our TAs, we managed to work well as a group and learn so much in such a very short time. It gives me a great sense of satisfaction".