On Friday, July 23, 2010, the APU Kids' Summit was held at the APU Student Hall and campus as part of the 10th Anniversary Celebrations. Approximately two-hundred students from local municipalities affiliated with APU took part.
Entitled "Let's play around the World", this event welcomed students born in the year 2000, the same year that APU first opened its doors. In appreciation for all the support local municipalities have provided over the years, approximately two-hundred children were invited to APU to work together with APU students from around the world, experience the university's international and multilingual environment, and make new and interesting discoveries.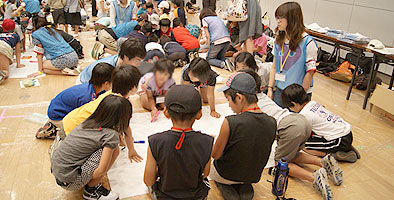 With the support of APU student-buddies, the children broke up into groups and spread out around the campus interviewing international students. The children also worked together with APU students to complete a world map and had lunch together at the cafeteria on what proved to be a fun-filled addition to their summer holidays.

A highlight of the day was the "Language Bingo - travel round the World at APU" activity which saw students complete a special "language bingo" card by interviewing international students around the campus about their native language. While some groups managed to complete their bingo cards, other students came up short despite their efforts to find students from the countries and regions they were searching for. Their student buddies also took part in the fun and ran with them around the campus - one group managed to interview as many as ninety international students.




During the "Kids' Message @ APU" activity, the children worked together with their student-buddies to create their own unique world map on huge white sheets with their own individual messages and designs. Some groups chose to cover their sheet with big bright colours while others drew world maps with fine detail. Each group showed their creativeness and individuality.

APU Vice-President YAMAGAMI Susumu was impressed with the completed maps that were presented at the end of the workshop. After praising the children for their fine effort, he presented each with a commemorative APU "member's card".

One of the children commented that "It was fun to speak to people from different countries and regions in the language-bingo game", while another commented, "This will be one of my favorite summer holiday memories".
Reporter, Student Press Assistant (SPA): ARAKI Yukari (APS2,Japan)