From Tuesday, July 13 through to Sunday, July 18, 2010, twenty-three senior high school staff including principals, vice principals, directors and senior staff representing top-level high schools in China, Korea, the USA, Bangladesh, Thailand and Sri Lanka visited APU and witnessed first-hand the international environment of APU - home to many of their former students.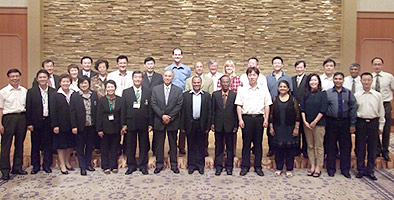 Held as an opportunity for senior high school administrative staff members to experience the culture of APU and daily campus life, the program also aims to expand APU's international network with high schools throughout the Asia Pacific region.

On Thursday, July 15, the groups met individually with APU President KORENAGA Shun who gave an introduction to APU's unique features including the scholarship system and bilingual language system. During their meeting with President KORENAGA, members of the Sri Lankan group praised APU for its international atmosphere and bilingual language system, "Due to the effects of globalisation, the world is getting smaller and smaller and we need more international universities like APU to meet the needs of a globalised world. In the past our students had struggled to come to Japan due to the language barrier but APU's bilingual language system has removed this hurdle. We are sure that our students will take a great interest in APU".

On Friday, July 16, members of the Thai group delivered DVD presentations of their respective high schools to an audience of APU faculty and staff members. Faculty members expressed their admiration for the high level of education in Thailand and offered their thanks to the Thai members for recommending their students to APU. Thai international students ensured the presentations went smoothly with interpretation offered in Thai, Japanese and English.

During their stay, the group also enjoyed meeting with current students and faculty members, observing APU lectures and a tour of Beppu's Jigoku Hot Spring "Hells". The group also attended the IAAPS Inaugural Special Lecture by 2006 Nobel Peace Prize Laureate Muhammad Yunus.