教育プログラム|学生生活
Aug 31, 2010

On Friday, August, 6, 2010, nineteen participants on the Freshman Intercultural Relations Study Trip (FIRST) to Taiwan held a presentation session to announce the results of their fieldtrip.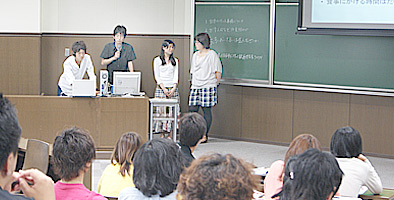 Making use of the summer holiday period, the FIRST program aims to provide APU students the opportunity to experience first-hand the different cultures and societies in Asia while also helping students to find direction in their future studies at APU. During the presentation session, students who took part in the Taiwan program delivered presentations focusing on a wide range of findings, compared with hypotheses formulated prior to arriving in Taiwan, such as local dining habits and pet ownership trends in Taipei.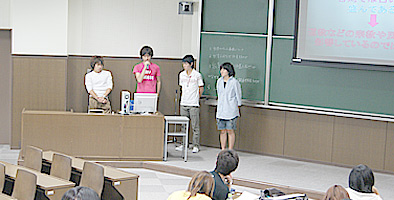 BABA Yoshinori (APS1, Japan) commented on his experience of the program, "I took part in the FIRST program because I wanted to learn more about different cultures and ways of thinking. During our fieldtrip we found that not many of the locals understood Japanese and we had to use hand and body language in what proved to be a tough challenge for us. However, the locals were very kind and always ready to help. I hope to make the most of this experience to make more friends on campus and deepen my understanding of different cultures". OTOME Natsumi (APS1, Japan) spoke of her aspirations for the future, "The language barrier was a challenge but this experience has made me more determined to study overseas in Asia. I aim to get the most out of my language classes at APU and work towards realizing my goals".

"Knowledge", "Experience" and "Exchange" are the very cornerstones of learning at APU and the university continues to develop opportunities for first-hand learning experiences both in Japan and overseas through "Active Learning Programs" such as the FIRST program. We hope that students taking part in the FIRST program will use this experience as a foundation towards taking a greater part in overseas programs.

The next FIRST program is planned for Korea in the fall semester and we are currently recruiting participants. Furthermore, students can view a display of the Taiwan FIRST trip in Building F this coming October.