On Friday, September 10, 2010, the Fall 2010 Graduation Ceremony was held at the APU Millennium Hall at which 520 students from 50 countries and regions marked the start of a new chapter in their lives. Approximately 700 parents, friends and current students gathered to celebrate the occasion.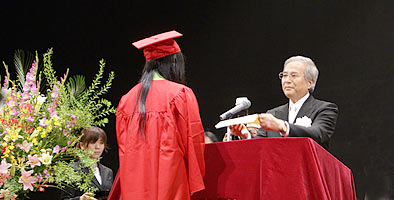 President KORENAGA Shun addressed the graduates and offered his words of congratulation, "You studied business administration or sociology from a global perspective at APU. At the same time, I am sure that you have taken a fresh look at your own country, language and culture. That is the lesson you learnt at APU. May you be proud of who you are, cherish your country and culture, keep the APU spirit, and enjoy success in your careers around the world". The President then presented the undergraduate and graduate representatives with their degree certificates.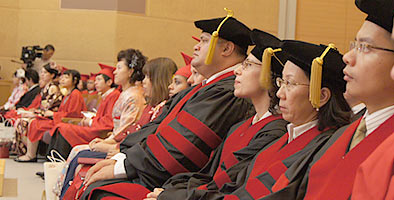 This year's Ando Momofuku Honor Scholarship recipient, Ms. BLAVIESCIUNAITE Aiste (APS, Lithuania) gave a message as representative of the undergraduate school, "Dr. Ando MOMOFUKU once said, 'you cannot accomplish what you have conceived unless you put it into action'. During my time here at APU I have gained the ability to take action and make my dreams reality. Let's work towards realizing our dreams in the true 'never give up' spirit and endeavor to find our way in the Asia-Pacific region and throughout the world".




BHARDWAJ Nitika (GSMM, India) gave a few words as representative of the graduate school, "The time I spent at APU has taught me how to become more independent, more flexible, and more respectful of the opportunities I am offered. But most importantly, I have made life-long friends that I will cherish forever".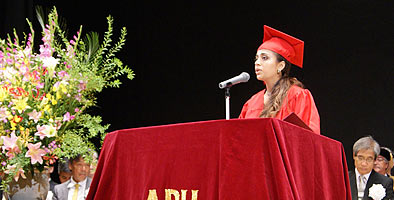 The ceremony concluded with the graduates tossing their caps high into the air of the auditorium, and as they face the beginning of a new chapter in their lives, the graduates leave with fond memories and experiences of APU to pursue further study or career opportunities.