On Thursday, August 26, 2010, the APU chorus circle "MUSY TONE" gave a joint-performance with the Oita-based "Ringo-no-Kai" at the Nishi Beppu National Hospital Summer Concert. Five APU students from APU including international students from Indonesia and Vietnam, combined with one former MUSY TONE member and the "Ringo-no-Kai" for the one-hour performance.



Since MUSY TONE was established in April 2006, the group has been visiting the Nishi Beppu National Hospital ward for patients with severe motor and intellectual disabilities and taking part in song and music exchange events with members of the "Ringo-no-Kai". The "Ringo-no-Kai" has been visiting the hospital twice a month since February 1999, which makes this concert their 179th performance at the hospital. This was MUSY TONES 40th visit.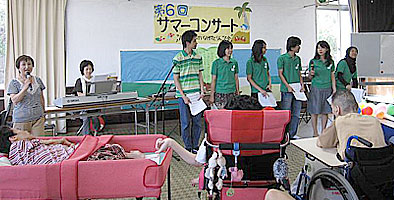 The Nishi Beppu National Hospital Summer Concert aims to give patients who seldom have the opportunity to venture outside the chance to experience the changes of the seasons. This was MUSY TONE's 5th performance at the Summer Concert, now in its 6th year.

The concert featured a total of seventeen summer-themed songs including "Aloha `Oe", "Song of the Seashore", "Youth in Us" and the Vietnamese song, "Cho Con (for my baby)". Using a whiteboard, lyric cards, balloons, and other hand-made props, the performers displayed their ingenuity to ensure that concert-goers could get involved in the performance as much as possible. Approximately fifty patients, family members and hospital staff came along and enjoyed singing along and getting to know the performers. At the end of the concert, Nishi Beppu National Hospital presented each performer with a thank you card and bouquet.

Looking back on the performance, MUSY TONE member SASAKI Azumi (APS4, Japan), commented on the concert, "We worked closely with the 'Ringo-no-Kai' to decide which songs to sing and finalize the concert program. Seeing how members of the 'Ringo-no-Kai' come up with interesting ways to make it easier for the patients to get involved is always a great learning experience for us. Furthermore, seeing the patients smiling and singling along always fills us with energy. I have participated in many concerts before, but this event made me realize once more the power of song and music".

MUSY TONE continues to be active performers both on and off campus. In addition to the October TENKU Festival, they are also scheduled to perform in November at local festivals and elementary school exchange events. MUSY TONE hopes to continue developing and maintaining links with the local community in their future endeavors.