On Monday, September 6, 2010, the inaugural "SPA Certificate of Recognition Conferral Ceremony" was held to recognize the efforts of Student Press Assistants (SPA) who have reached the end of their term. Junior SPA members and University publicity staff attended the ceremony to acknowledge the efforts of Raz Arisyi Fariza (APM4, Indonesia) who also recently celebrated his graduation.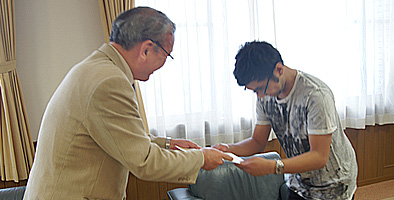 APU Vice-President YAMAGAMI Susumu attended the ceremony and offered a few words of encouragement, "You may encounter challenges in the future, but when you do, be sure to remember your university friends and draw strength from the time you spent here at the international environment of APU".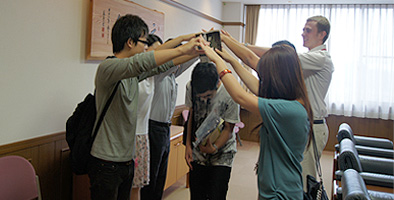 In response, Raz said, "I have experienced many things and taken on many challenges during my time here. It has been an irreplaceable period of my life. I am grateful for the time I have spent as an SPA member. I now plan to head to graduate school in England, but I will always be sure to apply the knowledge and experiences I have gained at APU".

Established in November, 2008, SPA currently has 21 members who are busy covering a range of campus lectures, ceremonies, events, and student activities and publicizing them both on and off-campus. SPA is also preparing to launch its own homepage in December this year and working on a free-paper for new-entrants to be distributed at the entrance ceremony. Please look forward to more developments from SPA.
Reporter, Student Press Assistant (SPA): MAEHARA Hironobu (APS4, Japan)