On Saturday, September 18, 2010, the "2010 Fall Semester AP House Welcome Ceremony" was held at the APU Millennium Hall.




Dean of Student Affairs, Professor KIM Chan Hoe, opened the proceedings with a welcome speech during which he said that AP House "is a place to meet lots of new friends and create a network of peers that will prove helpful in your future careers". He encouraged the new students to make the most of their time at APHouse, and make lots of good memories and friends. Professor KIM also introduced the role of the Student Support Centre and Resident Assistants (RA*) in dealing with student concerns and improvements to AP House.

TINSLEY Alexander Richard (Australia) and ITO Anri (Japan) spoke on behalf of the new AP House residents. RA Leader, Adrian Robin NGO (APM2, the Philippines), offered the new entrants a welcoming speech on behalf of the Resident Assistants and said, "Living with people from 70 different countries and regions is a privilege and a luxury, but here at AP House, it's just part of our daily life". A video made by and staring RAs was then shown introducing the rules and manners of life in AP House.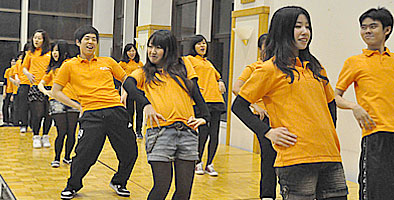 Following the main welcome event at the Millennium Hall, new residents and RA's joined a "Welcome Dinner" held at the APU Cafeteria which featured the musical talents and dance skills of RA's and the APU Japanese traditional performing arts group, "Yosshakoi". During the welcome dinner, the RAs introduced themselves and pledged to do their upmost to support the new residents in their dormitory life before bringing the proceedings to an end.

*Resident assistants, or RAs, are domestic and international students who, in collaboration with the university, reside at AP House with the aim of supporting the dormitory students in their daily lives. The role of the RA is to provide assistance to international students who have come to Japan for the first time to help them adapt to the Japanese lifestyle, assist them in getting used to dormitory life and encourage interaction between House residents.
Reporter, Student Press Assistant (SPA):
Dimithri Dveinda Jayagoda (GSAM 2, Sri Lanka)