教育プログラム|学生生活|連携事業
Oct 5, 2010
On Friday, September 10, 2010, a ceremony was held prior to the APU Graduation Ceremony to recognize the efforts of eighteen third-intake students who successfully completion the "Career Development Program for Foreign Students from Asia (GBLP)" in addition to ten second-intake students who completed the "Kyushu-Asia Specialized International Student Development Program". The "Career Development Program for Foreign Students from Asia" is a Japanese Government backed program begun in 1997 currently being run at APU.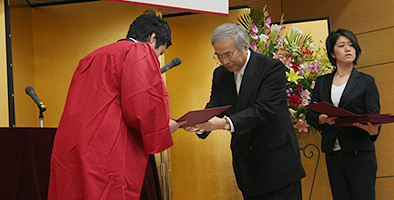 Attending the ceremony, APU President KORENAGA Shun addressed the ceremony audience, "Japanese language ability is absolutely vital to be successful in Japanese business. I encourage you to value the knowledge of Japanese language and culture you have fostered during your time on the program and I look forward to your success in the future". Chairman of the GBLP Promotion Committee and APU Vice-President, HIRATA Junichi then offered the students a few worlds of encouragement, "The workplace will no doubt be far more challenging than your experiences here at APU or on this program, but I encourage you to open up your own career path and make the very most of what you have learnt on these programs". President KORENAGA then presented each student with their certificate of completion.

MAGDALENA Manggala (APS4, Indonesia) addressed the audience and spoke of her ambitions for the future, "The knowledge and skills I have gained on the GBLP are an irreplaceable asset for my future career. I will begin working for a Japanese company in spring next year and I look forward to doing my very best". Program participant, NAN Nan (APM4, China) described her dreams for the future, "Coming to APU was a great experience and I have made many lasting friendships. It has been a wonderful learning experience; not only have I learnt the Japanese language, but I have also gained a better understanding of Japanese business and management. I look forward to becoming a bridge that can link together Japan, China and the entire world".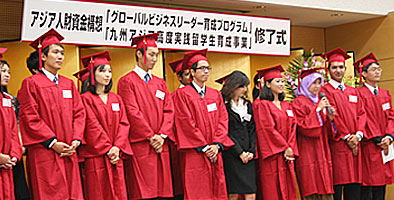 The GBLP aims to develop future business leaders who can contribute to Japan's economic development while leading the way in the Asia-Pacific region. In addition to standard APU curriculum subjects, 3rd and 4th students on the GBLP must complete an additional 16 credits including lectures and internships. Students on the "Kyushu-Asia Specialized International Student Development Program" can also choose from a range of specialized classes to improve their Japanese language proficiency during their two senior years. Let's look forward to more developments from our outstanding students on the business stage.

*The Global Business Leaders Development Project (GBLP)
The GBLP, as proposed by APU, was adopted into the Ministry of Education, Culture, Sports, Science and Technology (MEXT) "Career Development Program for Foreign Students from Asia". Designed to improve the international competitiveness of Japanese businesses, this program accepts exceptional students with a strong desire to seek employment in Japanese businesses from throughout Asia and equips them with specialist knowledge and Japanese language skills. The program seeks to nurture globally-minded graduates with the ability to bridge Japanese business with the rest of the world.

Kyushu-Asia Specialized International Student Development Program:
Managed and promoted by the Aso Juku Academy, this program provides international students in the Kyushu Area with a menu of business Japanese language programs and internship opportunities, and aims to develop graduates with the skills to play an active role in the local and Japanese business sectors. APU continues to play an active role in this program as a host university.

Please click here for more details on the GBLP
Reporter, Student Press Assistant (SPA): MAEHARA Hironobu (APS4, Japan)