連携事業|講演・シンポジウム
Oct 6, 2010

On Thursday, September 30, 2010, the AY2010 Oita City Human Resources Development Project "Management of Technology (MOT) Lecture Series began at the Oita City Industry Activation Plaza with the cooperation of APU and the Asia Pacific Innovation Management Center (AP-IMAC).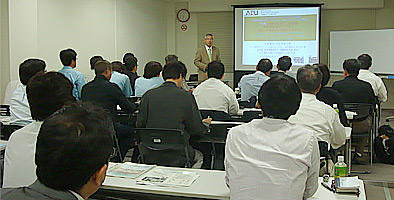 Begun in 2006, the Management of Technology (MOT) Lecture Series is now in its 5th year. Running until Thursday, December 16, this 12-part series will feature weekly lectures from seven faculty members from the APU College of International Management affiliated with AP-IMAC, and off-campus experts. These lectures provide participants with a structured introduction to Management of Technology (MOT).

The first lecture on Thursday, September 30, saw AP-IMAC Director and APU College of International Business Professor, NAKATA Yukihiko, and former Director of the SHARP Oita Technology Center, SHUTO Yoshihisa, deliver a lecture under the title of "What is MOT? – a Case Study from the Development of Electronic Calculators". Over thirty local Oita Prefecture managers, technicians and administrators attended the lecture that illustrated the meaning and importance of MOT and utilized case studies of calculator and semi-conductor technological development through the generations.

The appearance during the lecture of the world's first ever electric calculator proved popular with the audience. Developed in 1964 and weighing in at 25kgs, the calculator had a price-tag of almost $6,000. The calculators of today weigh as little as 23 grams and can cost less than a dollar. This example illustrated how technology has developed over the years and had the audience nodding with approval.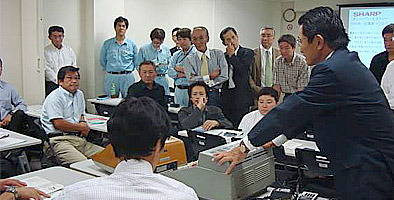 Professor NAKATA commented on the purpose of this lecture series, "This series is about learning how to use technology to maximize business profit. Over these 12 weeks, this series will provide participants with a systematic look at the vital aspects of MOT including marketing, accounting, finance, entrepreneurship, human resource management and networking. This series is also a way for APU and AP-IMAC to make a contribution to the local community by sharing our knowledge of technology management with Oita Prefecture businesses. I hope that people attending our lectures gain a deeper understanding of technology management, what kind of business strategies they should formulate, and put this new knowledge into practice".

Please click here for more information on the lecture series:

Please click here for more information on AP-IMAC: