On Saturday, September 11 and Sunday, September 12, 2010, APU faculty members responsible for freshman education delivered a presentation at the "Japanese Association of First-Year Education at Universities and Colleges" Conference held in Kyoto City. Their presentation outlined the results of education and first-year orientation programs offered by the University in cooperation with the business sector to promote self-study habits and improve basic academic skills among freshmen students.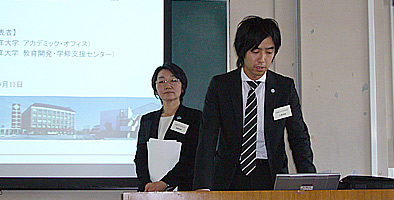 During the presentation on the achievements of orientation programs for first-year students, Education Development and Learning Support Center Associate Professor SHIN Kimie and other APU faculty members gave examples of how the use of "FLAG" (Fellow Advisory Group) student staff had led to higher attendance rates and achievement levels in orientations which had previously been held primarily by teaching staff.

In recent years, more emphasis is being placed on the importance of education for first-year students and in particular, on providing support to students making the transition from high school to university level education.

APU currently organizes a range of programs for first-year students including English skill-up lectures, pre-entry education programs, and overseas experience programs for new-entrants. Through such initiatives, the University aims to promote greater student motivation towards their studies, raise students' awareness of the importance of goals, encourage active and self-study patterns, and the creation of a multicultural community. The Education Development and Learning Support Center has also been established to promote comprehensive and systematic first-year education. Under the title of "Building a New Model for Freshmen Education", APU was adopted into the Ministry of Education, Culture, Sports, Science and Technology (MEXT) "2008 Program for Promoting High-Quality University Education" –an open-type MEXT subsidized assistance program.