On Wednesday, October 6, 2010 the "Circle Party! 2010" was held at the APU cafeteria. Organized by the Student Organization Support Committee* (SOSC), the event was intended as a welcome event for first semester students, introducing them to various APU circle activities. Over fifteen circles participated in this event, displaying colorful booths where students could consult with circle members to learn more about their activities. Many circles also held stage performances displaying their activities and talents to a large audience at the cafeteria.




The audience enjoyed the vibrant traditional dances performances by the "Yossha-koi" and "Mai Raku" circles, the animated acrobatics by the "Lilies" APU Cheerleading Club, the martial arts show by the APU Kung-fu Club, and many other impressive performances. In addition, the "Shinmyong" Samulnori Team circle's traditional Korean drum performance brought the whole cafeteria to life with a powerful and entrancing performance. A major attraction was the APU "Western Horse Riding California", which offered free rides on the two horses they had on display outside the cafeteria where many excited students gathered.

Although there were many first semester students present, senior undergraduate and graduate students equally enjoyed the performances, and were able to learn more about different circles. LIU Qing (APM 3, China) expressed her views, "I enjoyed the event and the various performances immensely. It was a great opportunity to learn about various circles. I was also able to ride a horse!".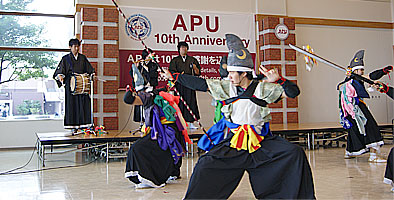 SOSC leader SHINKE Risa (APS 4, Japan) commented on the event, "I'm glad we were able to hold such an event with so many wonderful APU circles. I hope many students develop an interest and join circle activities, and enjoy this special atmosphere at APU".

APU currently has 135 different circles and clubs which offer students the chance to discover their talents, and have a more enriching student life experience.

*The Student Organization Support Committee (SOSC)
Established in 2007 with the aim of "promoting circle self-autonomy from the circle standpoint for the revitalization of APU". SOSC aims to provide total support for circle activities including welcome events for new entrants and meetings that bring together representatives from each of the student circles.
Reporter, Student Press Assistant (SPA): SETHURAM Shyamala (APM2, India)