On Tuesday, October 12, 2010, the Ambassador to Japan at the Embassy of the Republic of Cameroon, H.E. Pierre NDZENGUE, visited APU with his First Secretary, John BILLY-EKO Jr. During their time at APU, the gentlemen enjoyed a discussion with APU President KORENAGA Shun, Pro-Vice President Edgar PORTER and five APU international students from Cameroon. Ambassador NDZENGUE is an Ambassador Member of the APU Advisory Committee*.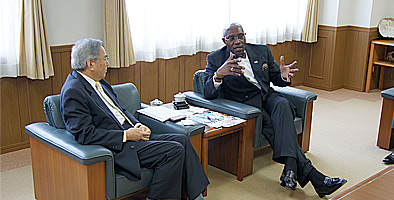 During his discussion with President KORENAGA, Ambassador NDZENGUE spoke of his keenness to expand the student and academic exchange between Japan and Cameroon and suggested that through improved faculty exchange, "our university professors in Cameroon can bring a unique African perspective to APU and play an active role in enhancing students' awareness of African issues. APU professors, on the other hand, can bring an Asian perspective to university education in Cameroon. It's a truly win-win situation".

In response, President KORENAGA said, "We currently have a number of students from Africa studying at APU and we are keen to set up stronger cooperative relationships with Africa and expand our African student intake".

Following their discussion, the Ambassador and First Secretary met with five Cameroonian students. The students introduced themselves and their field of study at APU. Ambassador NDZENGUE offered the students a few words of encouragement, "I have no doubt that you will all do your very best in your studies at APU and I encourage you to make the most of the available opportunities. Please represent your country with pride and remember that your success at APU could open the door to opportunities in Japan for your brothers and sisters in Cameroon". The group then enjoyed a campus tour including the Library, classrooms, AP House and the cafeteria.

APU currently has 58 students from the African continent including 6 students from Cameroon. In May, 2010, seventeen government officials from nine African countries including Angola, Lesotho, Namibia and Cameroon took part in an "African Regional Development-One Village, One Product" training program at APU. Let's look forward to greater collaboration between APU, Cameroon, and the African continent in the future.

*The Advisory Committee
Established before the university opened, the Advisory Committee aims to provide multifaceted support to the University and currently has 326 members (as of March, 1, 2010) including former heads of state from around the world, ambassadors, and leading figures in the Japanese business and economic circles. The Committee continues to make a range of contributions to the development and enrichment of study and research at APU.