From Tuesday, October 19 until Sunday, November 7, 2010, the World Press Photo 2010 Exhibition will be held in the APU Convention Hall. Shown in approximately 100 venues in 45 countries throughout the world, this is the exhibitions only appearance in Kyushu.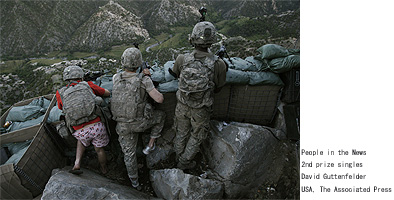 World Press Photo is an annual exhibition run by an Amsterdam-based non-profit foundation of the same name* and features approximately 170 award-winning photographs from the World Press Photo Content. Now in its 53rd year, the exhibition is a showcase of some of the world's very best in photojournalism.

The exhibit is composed of 10 sections, including art, sports, contemporary social issues and nature and this year saw a record number of submissions with 10,1960 photographs submitted by 5847 applicants from 128 countries. The 170 prize-winning photographs provide a snapshot of the events that occurred around the globe including Italian photographer Pietro Masturzo's grand-prize winning image of women shouting from a rooftop in Tehran in protest of the current system in Iran, an Afghan woman fleeing the site of a suicide bomb attack, and also an underwater image taken of the precise moment a kingfisher catches a fish in its beak.

The exhibition's Japanese tour began on June 12 at the Tokyo Metropolitan Museum of Photography, with subsequent showings in Osaka, Kyoto (Kyoto Museum for World Peace, Ritsumeikan University), Beppu (APU), and Shiga (Ritsumeikan University). APU will be the sole venue for all of Kyushu. We hope you come along and enjoy the world-class photographs and the story they tell about our world.
World Press Photo 2010


Date/Time: 10/19 (Tues) - 11/7 (Sun) 10:00 - 17:00
(Last entry 16:30; (open every day during the exhibit period)
Venue: APU Building A, 2F, Convention Hall
Admission Fee:
Adults:500, High School Age and Under: Free
Sponsors:
Asahi Newspaper,World Press Photo, Kyoto Museum for World Peace, Ritsumeikan University, Ritsumeikan Asia Pacific University
*Free entry to APU students, faculty & staff upon presentation of ID card

*The World Press Photo Foundation is a non profit organization established in 1955 and aims to promote photojournalism and encourage photojournalists. They also hold education programs for up-an-coming photojournalists on a world-wide scale as well as contests and photo exhibitions.