From Tuesday, October 12, until Saturday, October 16, 2010, five career advisors from renowned high schools in the Kingdom of Thailand visited APU, enjoyed a campus and lecture tour, met with Thai students and experienced APU campus life. Held every year, this program invites teaching staff from Thailand and aims to deepen their understanding of the APU learning environment.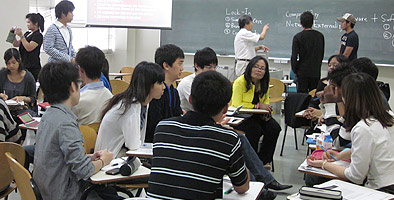 On Friday, October 15, the group heard a presentation by members of the student NGO circle "PRENGO" on its volunteer efforts in Thailand, a presentation by Thai students about their involvement in the "Thai Week" Multicultural Week, and were also introduced to the study environment at APU and student life in Japan. The group also observed a tea-ceremony class and tried their hands at the tea-making etiquette to get a taste of Japanese culture. In addition, the group met with the APU President and members of the University Executive, visited a high school in Kitsuki City, and enjoyed a tour of Oita Prefecture.

Ms. PANGTAKUL Wanwin, a teacher at Yuparaj Wittayalai School, gave her impressions of APU, "Offering classes in English provides an extremely suitable learning environment for Thai students and other international students. I was greatly impressed with the comprehensive scholarship program that offers study opportunities to so many international students". Ms. SAENGSAWANG Udom, a teacher at Ekamai International School, gave her impression of APU, "Being able to understand different cultures will be a great asset to graduates in their future careers. I came away with the impression that APU is the leading international university in Japan".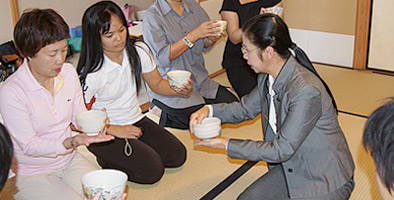 APU Thai international student, LAUEBOONCHU Patarapon (APM4, Thailand), accompanied the group and supported them as an interpreter. He spoke of his experience, "It was an honor to be given this task. I hope that more high school students come to know about APU's strengths. As a Thai student, it would be a great pleasure for me to welcome more students from my home country into APU in the future".

The 228 Thai students currently studying at APU make up the 3rd largest group of international students on campus. APU and Thai continue to enjoy a strong relationship including a visit in August by the Ambassador Extraordinary and Plenipotentiary of the Kingdom of Thailand to Japan, H.E. Mr. Virasakdi Futrakul, and Minister Counselor (Education) of the Royal Thai Embassy in Japan, Mr. Warin Sukcharoen in May, in preparation for the Ambassador's visit.