From Friday, October 1 until Thursday, October 14, 2010, the "APU 10th Anniversary Photo Exhibition" was held at Oita Airport - Oita's gateway to the sky. The "APU Multicultural World" Performance Event was also held on Sunday, October 10, and featured a number of performances by APU students and graduates.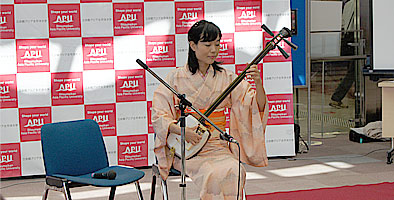 In addition to a live performance by APU graduate and professional Shamisen player, SUZUKI Toshie, the event featured performances by APU student circles, namely, the Indonesian dance troupe, "APUIna", and Vietnamese martial arts group, VIVONA. An information workshop entitled "If the World were a Village of 100 People" was also held that spotlighted the volunteer work in Thailand of the APU student volunteer organisation, PRENGO.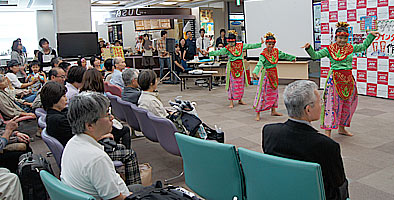 The event was well received by the many travelers who stopped by the airport departure lobby (the event venue), and also by the many people of the local community who came along to enjoy the live student performances.

The "APU 10th Anniversary Photo Exhibition" has now shifted to Yume Town, Beppu (adjacent to the 3rd floor food-court), and is open until Sunday, October 31. We encourage you to come along and enjoy a glimpse into APU's first 10 years together with Beppu.