APU student, TAMAKI Ayumi (APS3, Japan) recently completed a 12 month exchange trip to the University of Botswana -one of APU's partner institutes. Upon arriving back from her exchange which began in August 2009, Ms. TAMAKI delivered a presentation about her campus life at the University of Botswana (UoB) and her work towards holding a photo exhibition about the atomic bombing.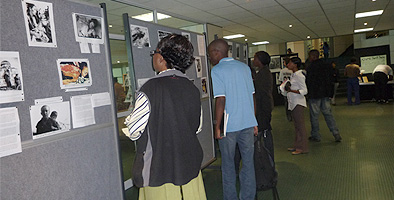 During her presentation, Ms. TAMAKI spoke of the reasons why she chose Botswana as her foreign exchange destination, "not everyone in the world has the opportunity to get an education, let alone the chance to study in Botswana or an African nation. Being the only university in Botswana, the school is home to many of the nation's future leaders and through interaction and exchange with local students, I was able to get a glimpse into the nation's future.

In April, 2010, during her overseas exchange, Ms. TAMAKI presented a photo exhibition on the atomic bomb at the UoB Library making use of nine photo panels borrowed from the "10,000 High School Students Signatures Campaign" Executive Committee and approximately 40 photographs submitted by members of the Fukuoka general public. The exhibition also featured a presentation that made an appeal for peace and told of the horrors of the atomic bombing.

In 2009, during her second year at APU, Ms. TAMAKI took part in the APHouse hosted "Nagasaki Peace Tour" as a tour leader. Through this tour, she came to know more about the "10,000 High School Students Signatures Campaign" and began to feel strongly about making more people around the world know about Japan's experience of the atomic bombing.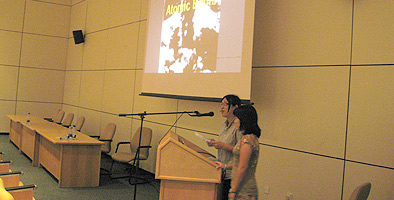 Leading up to the exhibition, Ms. TAMAKI experienced numerous negotiations with the Japanese embassy in Botswana and university representatives. She also spoke of presentations she held to raise peoples' knowledge of Japan and the history of the atomic bombing -both relatively unknown topics in Botswana.

Looking back on her experiences, she acknowledged that, "My presentations about the bomb won't lead directly to world peace. But, people who previously knew nothing about the bomb now have a greater understanding and have taken an interest in the subject. I hope that in some indirect way, my actions have contributed to peace".

Making use of her experiences in Botswana - where one in every three people is a carrier of the HIV virus, Ms. TAMAKI is currently moving ahead with preparations for the "HIV Aids Week" at APU as a way of raising people's awareness of the AIDS virus. We look forward to ever greater achievements from Ms. TAMAKI as she works towards the realization of her goals.