On Saturday, October 9, 2010, the "Kamegawa Autumn Festival 2010 - Night Bazaar" was held at the Kamegawa shopping district, Beppu City. A number of food stalls and lively performances by APU students helped to attract the many local people and students who came along to enjoy the festivities. APU students also took part in the event planning and preparations.



In spite of the light rain, the Kamegawa shopping district offered people a warm atmosphere featuring hanging decorative colored lanterns, a range of different Japanese foods and drinks, and a colourful mixture of international food stalls set up by APU students with traditional dishes from Indonesia, Vietnam, The Philippines, Korea, India, Bangladesh, and more.

NGUYEN Thi Thuy Dung (APM3, Vietnam) spoke of her experience selling "harumaki" spring-rolls – a world renowned Vietnamese speciality, "Many people told us that this is not their first time to try 'harumaki' and I'm very happy to know that local people love this Vietnamese dish. I enjoyed the festival very much and I thank our hosts for their support and encouragement".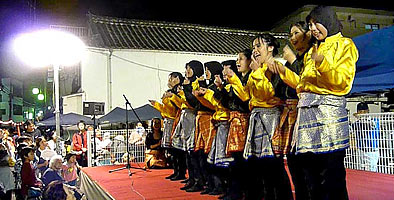 Another highlight of the festival was the stage performances. APU student circles APUIna (Indonesian dance troupe) and the Japanese traditional performing arts group, "Yossha-Koi" added a special touch to the proceedings. APUIna entranced the audience with their professionally executed and unique dance, while Yossha-Koi gave an impressive parade-style performance along the street.

Leader of the Yossha-Koi performance, OKAMURA Yukiko (APS2, Japan) commented on the event, "This is my first time to perform in the Kamegawa Bazaar, and I enjoyed every minute of it. The local Kamegawa residents were so kind and often came up and talked to us after our performance. Our performance featured a new dance we created over the summer and we had to spend almost every day practicing since the start of this semester to master it. I hope to take part in the event again next year".

FUKUDA Kyoko (APS3, Japan) acted as student representative and was involved in the festival's planning and management. She spoke of her experience of the event, "I am very happy to have been able to add my humble contribution to the effort to revitalize the Kamegawa area. Being offered this rare opportunity to meet and discuss things with the people of the local shopping district, and gain insights from their years of experience, has helped me to see things from a range of different angles and develop as an individua".

In his speech at the end of the festival, the Mayor of Beppu City, HAMADA Hiroshi expressed his thanks to APU students for their contribution to this year's event. Let's look forward to next year's festival and even more multicultural activities by APU students.
Student Press Assistant (SPA): HA Thanh Binh (APS3, Vietnam)