On Saturday, October 23, 2010, the "Korean Speech Contest for High School and University Students" was held at Fukuoka International University. Of the four APU students that entered the contest, ZHENG Ting (APM4, China) won the Consulate General Prize and TSEREGJIL Azjargal (APM4, Mongolia) won an Incentive Award.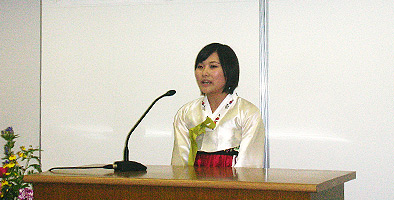 Held to support Korean language education and promote Japan-Korea exchange, the Korean Speech Contest began in 2008 for high school and university students in the Kyushu/Yamaguchi area for whom Korean is not their native language and have not lived in Korea for more than a year. APU students in the undergraduate division made up half of 8 students from 4 universities that cleared the preliminary stages.

In her speech entitled "I'm glad I came to Japan", Ms. ZHENG spoke about how she had developed though her part-time job and life in Japan after graduating APU. After only studying Korean for four months, Ms. TSEREGJIL delivered a speech entitled "The Importance of Being Thankful" and spoke of the time she spent in a foreign hospital after being injured during a trip to Indonesia. She described how this experience had made her realize the importance of family and of being thankful for the help of others.

"I was inspired to take part in this year's event by the success of last year's Consulate Prize winner and fellow APU student, PAK Andrey (APM4, Uzbekistan). Although I have only studied Korean for four months, I managed to gain a high level of proficiency thanks to my Korean teacher and Korean friends at APU. In the future I aim to work for the Mongolian foreign ministry and I'm sure that this experience and my language skills will help me to reach my dream".




The participating students received pronunciation and presentation instruction from APU Center for Language Learning, Senior Lecturer, HWANG Jung-nan.

Asia Pacific language lessons continue to play an active role at APU where students from 85 countries and regions around the world come to study. The Korean language classes continue to be very popular and the university also provides opportunities for students to learn the language in Korea through language immersion and field study programs.

APU Prize winners at the 3rd Korean Speech Contest for High School and University Students:
Consulate General Prize: ZHENG Ting (APM4, China)
Incentive Awards: TSEREGJIL Azjargal (APM4, Mongolia)