On Saturday, November 20, 2010, shop-owners in the Kamegawa shopping district and APU students joined forces to hold the "Kamegawa Walk" exchange event between members of the local community and university students.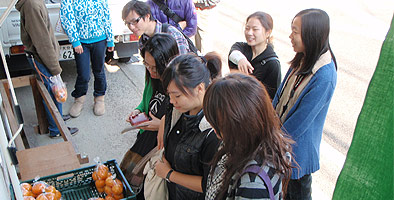 On the day, approximately twenty APU students from Vietnam, China, America and Japan took part in a walking tour of the Kamegawa shopping district under the guidance of two local residents and enjoyed getting to know the local shopkeepers. The Kamegawa area is home to a large number of APU students but for many of them this was their first time to step inside the local shops. The event proved to be a great opportunity to interact with the local community and a number of students commented how they were, "very moved by the kind hospitality of the people of Kamegawa".

The event also provided the opportunity for participants to experience a taste of local Oita culture as they enjoyed learning from their guides how to cook the local speciality, "Dango-Jiro" (dumpling soup), and learn more about the local hot-spring bathing etiquette.




Planner and organizer of the exchange event, FUKUDA Kyoko (APS3, Japan), spoke of her aspirations for the future, "I hope that this event will lead to greater interaction between students and the local community and I look forward to more events in the future".

Ms. FUKUDA was involved in the October 2010 "Kamegawa Autumn Festival" with the aim of promoting local exchange and bringing energy back to the community. APU also places a great importance on its role in the internationalization and development of the local region and will continue to promote local student and faculty interaction and exchange.

We at APU look forward to further achievements from Ms. FUKUDA in the future and will continue to organize and support interaction and exchange between our students and the local community.

Please click here for an article on the Kamegawa Autumn Festival: