On Saturday, December 4, 2010, members of the Student Activity Station (SAS) held a "Cross-cultural Craft Workshop" at the Beppu Asahi Ohirayama Community Center hosted "World Culture School". This event aimed to deepen the participating children's understanding of different cultures through interaction with international students.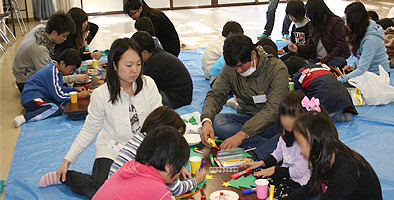 Twenty-three kindergarten and primary school students took part in this, the 3rd installment of a five-part exchange event held by the Asahi area, and enjoyed interacting with international students, creating Christmas trees and paper-craft towers.

Using paper cups, straws, disposable chopsticks and tape, the children in the "world tower" group worked together with their APU support buddies as they constructed their own "word tower". When their towers were complete, each circle then introduced their creation to the other groups.

APU students in the "Christmas Tree" group introduced how Christmas is celebrated around the world before helping the children make their own small Christmas tree with pens, coloured paper, string, beads and more. Although starting with the same coloured paper, each of the Christmas trees reflected the children's individuality and flair.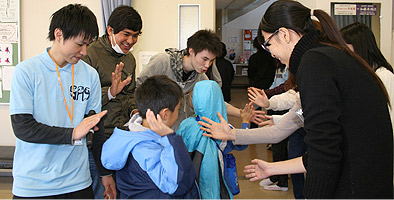 SAS member, ASO Hiroyuki (APS1, Japan), emceed the event and commented on the experience: "Working with the children at this event has been a great way to deepen interaction and exchange. We planned this event so that that the children could make something that they wanted to". One of the participating children said that "it was fun building the tower and interacting with the international students".

Established in 2008, the Student Activity Station (SAS) aims to provide support and information to students taking part in extracurricular activities. Bringing together both the student body and office staff, the SAS is located in the Student Office and currently has five teams: the Administrative Assistant Team, Local Exchange "First Step" Team, Local Exchange Team (Hiji & Beppu), and the Local Support Coordinator Team. The five teams are currently working on a range of events including community exchange projects and international cultural exchange programs for APU students. The SAS is currently working towards the upcoming "World Culture School" to be held on Saturday, January 15 under the theme of "Let's Experience the World". Let's look forward to more great results from the SAS team.
Reporter, Student Press Assistant (SPA):ARAKI Yukari(APS2, Japan)