On Wednesday, December 8, 2010, eight APU international students from five countries including Indonesia, Vietnam and Thailand, joined other exchange students living in the Beppu City area for the "Town Development Workshop with Exchange Students". Hosted by Beppu City, the workshop aimed to make use of local international students' ideas and opinions in Beppu City tourism development initiatives.


During the first installment of this two-part workshop, international students visited the "Jigoku Mushi Kobo, Kannawa" (Steamed Dish Kitchen), one of Beppu City's newest tourist spots where tourists can experience steamed cooking utilizing natural hot-spring steam. A discussion session was also held offering participants the opportunity to voice their changing views on Beppu and their favorite tourist spots.

Participating international students commented on the workshop: "I previously had a vague impression of Beppu as a town with many hot-springs, but this workshop showed me just how impressive the onsen are". "I heard that Beppu was rather remote, but I now realize that it is a wonderful tourist spot known throughout Japan as a quiet place where we can relax". A number of Beppu City officials were impressed with the level of knowledge the students had of local tourist spots and their proposals to further improve them.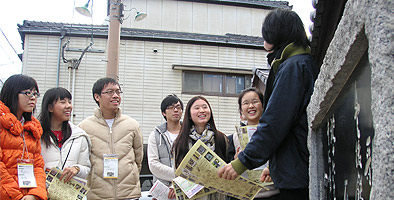 APU student LI Mengyi (APM2, China) took part in this event and commented on her experience: "This was a great opportunity for me to give my honest opinion to Beppu City officials". Ray Samuel (APM3, Indonesia) also commented on the event "Taking part in this workshop made us feel that we had been accepted as members of the community".

APU international students will also take part in the next installment being held on Wednesday, January 12, and give their input towards achievable local tourism development.

APU continues to place a great importance on its role in local revitalization and internationalization. The University has concluded a number of cooperation agreements with municipalities in Oita Prefecture and around Japan and remains dedicated to local interaction and exchange.