講演・シンポジウム|来学者
Dec 20, 2010
On Friday, December 17, 2010, the 15th Top Executive Lecture was held at the APU Millennium Hall and welcomed HASEGAWA Yasuchika (President & Chief Executive Officer of Takeda Pharmaceutical Company Limited) who delivered a lecture under the theme of "Growth Strategies For Japan and the People Needed to Drive it".




The lecture began with an opening address by APU President KORENAGA Shun: "Being able to hear directly from a top executive engaged in daring international business developments is a great opportunity to know more about the global vision of industries. I hope that you will make the most of this opportunity and apply the knowledge you gain to your future career".

During his lecture, Mr. HASEGAWA spoke of the social contribution of the pharmaceuticals industry, Japanese business strategies and the globalisation of Takeda Pharmaceuticals: "In these days of globalisation, APU is a true pioneer in Japan. Recently, however, a number of companies including my own are travelling overseas and recruiting graduates directly. Please be aware that your competitors are not only in Japan but all around the world".

He then offered a message of support to current students: "Based on my experiences, I would say that success is 70% effort. Even if your effort goes unrewarded, don't put it down to bad luck or a lack of ability. Instead, pick yourself up and just keep on trying. Although there are 6 billion people living on this planet, please always remember that you are one of a kind and that you have unlimited hidden potential. Seize your opportunities!"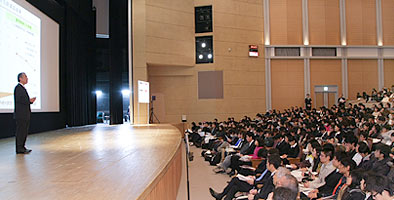 At the conclusion of the lecture, Mr. HASEGAWA opened up the floor to questions from students. In response to the question: "what is important for the next generation of leaders?", Mr. HASEGAWA replied that "the most important thing is to apply yourself for the benefit of society. To do this, you must always consider the interests of society first when questioning the correctness of your actions".

Welcoming a top figure in international business and management, the Top Executive Lecture series is held as part of the APU Career Development Program and aims to help students have a clearer sense of purpose and direction towards their future careers.
Held at the APU Millennium Hall, the lectures are always well received and offer students an opportunity to gain an insight into the kind of graduates currently sought in the work place together with a deeper understanding of the global economic situation. They also offer students the opportunity to think about their career goals and how to achieve them.
Reporter, Student Press Assistant (SPA): SUETSUGU Rei (APS2, Japan)