APU students PARK Kiho (APS4, Japan), TOSHINO Yo (APS2, Japan) and OKAMOTO Hiroshi (APS2, Japan) accompanied SATO Kei, a photojournalist who does volunteer work and takes photographs primarily in Africa, on a trip to Zambia in southern Africa to conduct volunteer educational support activities for one month from September 11 ~ October 1, 2010.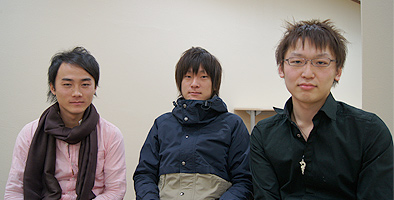 The trip came about when PARK, who was introduced to SATO throughout an APU alumni friend, expressed a strong interest in SATO's school building and educational support activities in Zambia.

The three students engaged in a variety of activities: they taught physical education, science, music and Japanese to junior high school students in the town of Samfya, they visited an orphanage in the capital city of Lusaka and they witnessed first-hand how street children lived in slums called compounds.

From these experiences, the students decided to organize "Under The Same Sky-Photo Exhibit of Works by Photojournalist Kei Sato" to show people SATO's photographs. While Africa is a place often thought of in terms of poverty and hunger, SATO's photos document the smiling, happy lives of the local people there. The subtitle "Under the Same Sky" represents the feelings of SATO and the students—that people in both Africa and Japan live under the same sky.

TOSHINO explained the living situation in Zambia, "We woke up every morning at 5:00 to take showers because the water only ran until 8:00. We went to school to teach, and sometimes even joined the students in cleaning the school." OKAMOTO commented, "Even though everyone in Samfya lives on less than a dollar a day, they led very happy lives. It made me rethink what it means to be happy."

PARK added, "When I saw children in Lusaka huffing thinner and hooked on drugs, I have to admit I was scared. But that is not the whole picture of Lusaka. I think it's our responsibility to hold an exhibit on what the people's daily lives are really like. I look forward to seeing what impressions visitors will have of the lives of Zambians when they see the exhibit."

The photo exhibit is on display until Tuesday, January 25th in the Pacific Cafe. At 18:00 on Tuesday, January 25th, SATO will join fellow photojournalist YASUDA Natsuki for a talk show event on international cooperation.
We hope to see you there!




Under The Same Sky-Photo Exhibit of Works by Photojournalist Kei Sato
Monday, 17th - Tuesday, 25th 9:00-18:00 @Pacific café, APU Student Union
Entry: Free

Kei Sato & Natsuki Yasuda Talk Show
Tuesday, 25th, 18:00-19:30 (Door Open 17:00) @Pacific café, APU Student Union
Entry: Free

Please click here for more details about the photo exhibition.
Reporter, Student Press Assistant (SPA):HIRABAYASHI Hayato(APS2, Japan)