On Monday, January 10, 2011, the 2nd World Catch-Ball Classic in Oita was held at the Beppu Municipal Baseball Stadium. Held in cooperation with APU, this event was held to promote greater communication with baseball fans and to make a contribution to international and regional exchange through catch-ball.


On the day, nine players from Oita affiliated with the Japan Professional Baseball Players Association including UCHIKAWA Seiichi (Softbank) and Tsuchiya TEPPEI (Rakuten) enjoyed a day of catch-ball with the crowds and APU students. Approximately 3000 members of the local community took part in the event including people who experienced throwing a baseball for the first time and youth-baseball players. Regardless of gender, age, experience or nationality, everyone enjoyed interacting and playing catch-ball with the pro-baseball players

APU graduate SIRIGAMPOLAGE Sujeewa (APS Graduate, spring'10, Sri Lanka) gave the call "play ball" to get the proceedings under way. Mr. SIRIGAMPOLAGE has been interacting with the Japan Professional Baseball Players Association since his involvement in the event last year with the Governor of Oita Prefecture, HIROSE Katsusada.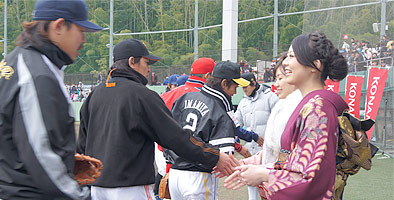 At midday a mini talk-show event was held which saw the players talking about last year's season, their memories of Oita Prefecture, and the significance of the catch-ball project. They also welcomed questions from the audience.

A number of students attending local coming-of-age ceremonies also took part in the event in their kimonos and traditional costumes. The players offered the students their congratulations on their coming-of-age.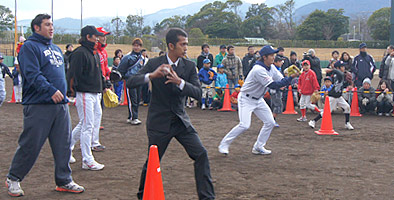 An inter-team "catch-ball tournament" was then held which saw five APU student teams in a speed-race for the top spot. Although many students were from countries and regions where baseball is not a popular sport, the winning team went on to beat the pro-baseball and local children's baseball teams to receive the winning prize at the closing ceremony - a baseball signed by the pro-baseball players.

One of the participating students commented on their experience: "Baseball is not a popular sport in my home country of Nepal so this was my first attempt at catch-ball. I had a great time and I'd like to take part again and continue playing catch-ball and baseball in the future".




Twenty members of the APU Baseball Club took part in the event as support volunteers. The Club also provided their support for last year's event.

Participating pro-baseball players:
UCHIKAWA Seiichi (Softbank), IMAMIYA Kent (Softbank), IWAO Toshihiro (Saitama Seibu), Tsuchiya TEPPEI (Rakuten), FURUKAWA Shuichi (Orix), WAKIYA Ryota (Giants), HIROSE Jun (Hiroshima), HIDAKA Ryo (Tokyo Yakult), YAMAGUCHI Shun (Yokohama)
Reporter, Student Press Assistant (SPA):MAEHARA Hironobu(APS4, Japan)