On Monday, January 21, 2011, APU Advisory Committee Member and Chairman and Representative Director of Idemitsu Kosan Co., Ltd, TEMBO Akihiko, visited APU together with the Chairman of the Musahino Art University, Kunihiko TAKAI, and the Director of International Relations at Musahino Art University, Prof. Paul V. Kandasami. During their visit, the group met with APU President, KORENAGA Shun.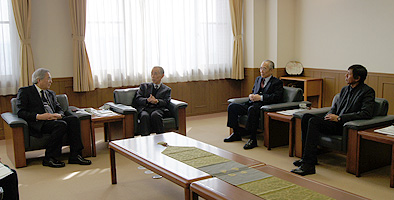 During their discussion, Chairman TAKAI and Director Kandasami introduced some of the internationalisation initiatives underway at Musahino Art University and a discussion took place surrounding university internationalisation in general. The group also discussed the possibility for future exchange between APU and Musahino Art University. Following the discussion, the group enjoyed a tour of the campus guided by APU international students.

This visit came about by an offer from APU Committee member, Chairman TEMBO Akihiko. Chairman TEMBO is also a serving trustee at the Musahino Art University.

* The Advisory Committee
Established before the university opened, the Advisory Committee aims to provide multifaceted support to the University and currently has 323 members (as of January 2011) including former heads of state of nations around the world, ambassadors, and leading figures in the Japanese business and economic circles. The Committee continues to make a range of contributions to the development and enrichment of study and research at APU.