From Saturday, September 4, until Monday, September 13, 2010, nineteen APU students took part in a field study trip to Washington DC as part of the "Operational Policies of International Financial Institutions" program under the instruction of APS Professor, TSUKADA Shunso. During the trip, the students met with representatives of the World Bank (WB), the Inter-American Development Bank (IDB) and the International Monetary Fund (IMF).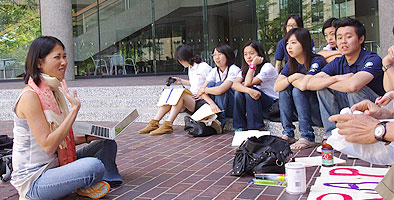 This field trip was held to offer students the opportunity to meet directly with people working at the front lines of international finance and increase the students' awareness of the policies, operations and organizational structures of the WB, IDB and IMF. Held prior to departure, three preparatory classes were organized in July 2010. At the conclusion of the trip, participants then put together reports based on their research and their experiences on the trip.

On Wednesday, October 20, 2010, a presentation session was held which saw the participants announce their research findings. Research themes included "Gender Equality and World Bank Policies", "The Millennium Development Goals", and "Official Development Assistance and its Effectiveness".




In the field study report, Professor TSUKADA said that "The students have learned a lot from this experience and have gained an insight into what kind of opportunities and challenges they would face if they joined these organisations. Increased familiarity with these institutions would, thus, place the students ahead of the game in their pursuit of future careers in this field".

Following field trips to the World Bank and the Asian Development Bank (Philippines), this trip was the third in the series. By offering this experience, it is hoped that the students will have a greater understanding of how international financial institutions function and the kind of experiences and qualifications are needed to work in such institutions.

Please click here for the research findings report: