講演・シンポジウム|来学者
Mar 8, 2011
On Friday, January 28, 2011, APU hosted an international workshop focusing on the provision of basic social infrastructure through "Build, Operate and Transfer (BOT)" and "Public, Private Partnership (PPP)" initiatives. The workshop welcomed guest speakers Dr. Tai Lee Ming, a Transport Specialist at the Asia Development Bank (ADB) South Asia Department, and Ms. FUKUYA Kurumi, a Principal Structured Finance Specialist at the ADB.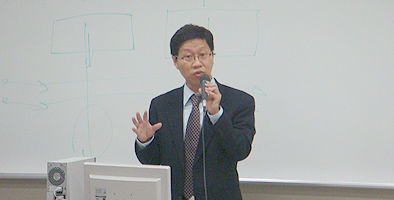 The workshop began with a speech by Dr. Tai on the topic of the "Formation and Management of Public Sector Infrastructure Projects" followed by Ms. FUKUYA who spoke about "Build, Operate and Transfer (BOT)" and "Public, Private Partnerships (PPP)" with reference to foreign infrastructure projects.

Expanding the participation of Japanese companies in foreign infrastructure developments is one of the major issues facing the Japanese business sector. With this concern in mind, the Kyushu Electric Power Company also took part in this workshop represented by Mr. TSUCHIYA Daisuke, Assistant Director of the Overseas Business Department, who delivered a presentation on Kyushu Electric Power Company's overseas business developments involved in BOT. Following this, APS Professor TSUKADA Shunso offered a commentary of the basic principles and facilitated further discussions. The 3.5 hour workshop came to a conclusion after a lively Q&A session between the participants.

Looking back on the workshop, Prof. TSUKADA said: "In the face of an increasingly contracting domestic market, Japanese industries are rapidly taking a greater interest in overseas infrastructure projects. However, orders received so far by Japanese companies remain inadequate. Two reasons identified have been the lack of understanding of project finance and its true nature, and a lack of experience handling foreign infrastructure projects. In the future, it is vital that Japanese business groups improve their international competitiveness and resilience at the project-level while also valuing joint initiatives at the macro-level by the government and private sector".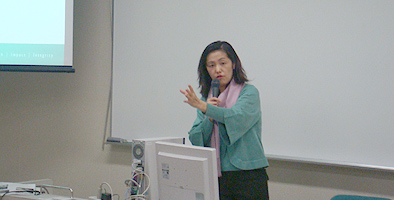 Although held in English, the event also attracted members of the general public which was an indication of the level of interest in the topics raised. APU will continue to hold timely lectures open to the public and endeavor to become even more accessible to the local community.

*BOT (Build, Operate, Transfer)
BOT involves the completion of building projects by government authorized private businesses which then manage and operate the facility for a set period of time. The facility is then transferred back to government control.

*PPP (Public, Private Partnership)
In general terms, PPP involves aspects of the private and public sector working in partnership on a project. In this case, the public sector provided a percentage of the required investment funds and a guaranteed minimum income, making it easier for private sector businesses to join the above BOT project. Such PPP initiatives have made possible an ever increasing number of overseas infrastructure projects.

*Project Finance
Typically, funds for a new project are arranged by using the company's financial position or assets as security (corporate finance). In the case of project finance, however, such security is not required; rather security is based on the project's prospects for success and future profits.