学生生活|講演・シンポジウム
May 23, 2011
On Wednesday May 12 and Thursday May 13, 2011, APU graduate students Iqra Anugrah (GSAM, Indonesia) and OKABE Yumiko (GSAM, Japan) attended the 41st St Gallen Symposium in Switzerland. Held under the theme of "Just Power", the symposium invited welcomed outstanding students and public figures to engage in two days of presentations and workshops.
Participants at the St Gallen Symposium were selected as delegates of their respective universities through a competitive essay competition. From the many submissions received from students around the world, only 200 were selected to attend the symposium. The St Gallen Symposium has been held since the 1970's and is the oldest international student symposium in Switzerland.

Day one of the event featured plenary sessions by invited speakers including leaders from the business and media sector, academia and more. Following the plenary sessions, participants broke up into work sessions focusing on one of five central themes relating to "Just Power". Iqra Anugrah participated in the "Power of politics and arms" work session focusing on the relationships between power, politics and arms against a backdrop of globalisation. OKABE Yumiko Participated in the "Power of leadership and politics" work session focusing on the future direction of leadership in corporate and political structures.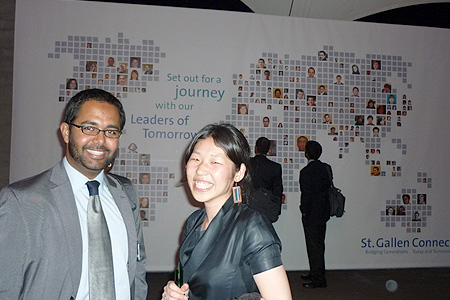 Day two featured further plenary sessions, an interactive panel discussion session and work sessions. At the conclusion of the program, a farewell dinner was held offering participants the opportunity to meet important figures and fellow students from around the world.

Looking back on the symposium, Iqra Anugrah commented that "This was a great opportunity to gain exposure and develop networks with fellow students in the same field of research and to meet with important global figures. The symposium has further fueled my motivation to develop creative ideas to make my contribution to global sociopolitical affairs".

Taking part in the symposium for the second time, OKABE Yumiko commented that, "This symposium gave me the opportunity to meet so many interesting and like-minded people and researchers from a range of fields including the environment, business and entrepreneurship. I am sure that the connections I have made will help me in my future research and career".