On Sunday, June 5, 2011, the Chairman & CEO of Keihan Electric Railway Co., Ltd, and Chairman of the Osaka Chamber of Commerce & Industry, Mr. SATO Shigetaka, visited APU and met with APU Vice-President HIRATA Junichi. Accompanying Chairman SATO were the President of the Osaka Chamber of Commerce and Industry, NADAMOTO Masahiro, and President of the Oita Camber of Commerce and Industry, Mr. TAKEDA Hiroshi. Headed by Chairman SATO, the group has been visiting cities throughout Kyushu with strong links to the Asian region as part of their efforts to revitalize the Osaka economy. Their visit to APU was part of this initiative.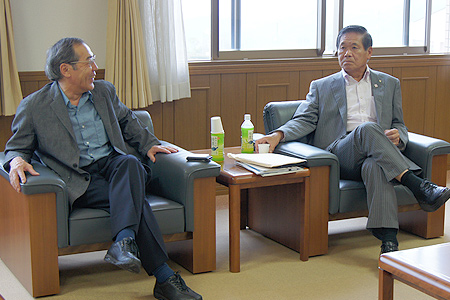 During their discussion, Vice-President HIRATA spoke about the process leading up to the opening of the University and also introduced some of the features of APU including the English/Japanese dual language system and the 50-50 ratio of international students and international faculty members. Chairman SATO and his associates raised a number of questions about student recruitment and the employment success rate of APU graduates. They seemed particularly impressed with the consistently high level of employment success APU graduates have achieved to date.

Following the discussion, the group then enjoyed a tour of AP House guided by Resident Assistants (RA) and inspected one of the shared rooms. During their inspection of the House, Chairman SATO asked the residents a number of questions about the APU scholarship system and their life in Japan.

At the conclusion of the tour, Chairman SATO gave his impression of APU, "Japan is currently feeling the effects of rumors circulating the media about the recent earthquake and tsunami that struck north-eastern Japan. But visiting APU and seeing the many international students from around the Asian region working hard in their studies has given me the confidence to believe that it will not be long before we see the return of international tourists to Japan".

Mr. KIMBA Akio is a member of the APU Advisory Committee (AC) and serves as an Honorary Member at the Keihan Electric Railway Company at which Mr. SATO Shigetaka is the current Chairman & CEO. Not only has the Keihan Electric Railway Company offered its support to APU as a member of the AC, it also lends its support to the entire Ritsumeikan Academy as a leading member of the Kansai regional business community.

*The Advisory Committee
Established before the university opened, the Advisory Committee aims to provide multifaceted support to the University and currently has 323 members (as of January 1, 2011) including former heads of state, ambassadors, and leading figures in the Japanese business and economic circles. The Committee continues to support the further development and enrichment of study and research at APU.