On May 23 (Mon) and 24 (Thu), 2011, an exhibition was held at APU of prize-winning entries in the Solar and Green Energy Business Promotion Association's "Applied Solar Power Product Idea Contest" recently held in Kumamoto City. The winning entries were made by members of APM Professor NAKATA Yukihiko's Management of Technology seminar. This seminar is currently working in collaboration with Duskin Industries Ltd.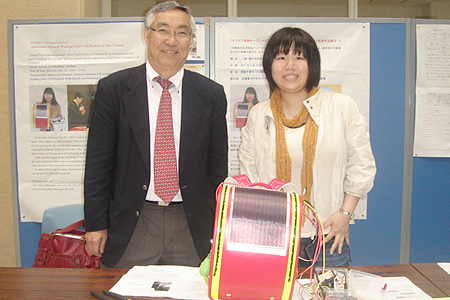 The exhibition featured six prize-winning prototypes including the grand prize-winning concept of RYU Tomoko (APS4, Japan) who devised a school backpack with a solar-powered safety alarm and light, and second place prize winning TSUTSUI Yusuke (APS4, Japan) who designed a tobacco smoke extractor that activates when a patio umbrella, equipped with a solar panel, is opened. Both students' concepts attempted to make full use of the unique characteristics of the flexible, thin and lightweight solar cells.
The prototypes were the result of a long process of trial and error with the help and ingenuity of fellow members of the Management of Technology seminar. Yusuke's concept received considerable industry support including a smoke extractor from Duskin provided free of charge, and circuitry from Creative Service Ideal (CSI), Ltd.
On May 26, Duskin employees ONO Yuji and YAGI Tomomi, and YOSHITAKE Hideaki of CSI Ltd., visited the display and inspected the prototypes. Mr. ONO commented that "it was inspirational for us to see the students' creativity and the products they developed from a fresh perspective".
Natural energy is gaining increasing attention around the world as a clean energy source. In particular, solar energy is gaining attention and a number of proposals for joint-research are currently underway on a national scale. With corporate support, we look forward to the final prototypes being made commercially available.
Please click here for the news article about the Applied Solar Power Product Idea Contest award ceremony: